"In America: An Anthology Of Fashion" – currently on display in the American Wing at the Metropolitan Museum of Art in New York – is the museum's second installment of a two-part series meant to shine a spotlight on American fashion and all that it stands for. But did it succeed? It depends on how one defines success.
Let's get this out of the way: this exhibition seemed more like a history lesson on America than a fashion exhibition. However, let us discuss what curator Andrew Bolton and his team did give us.
The ensembles throughout the exhibit were stationed within nine vignettes created by Hollywood film directors, with Sofia Coppola and Julie Dash being two of the participants. One of the overarching ideas of "In America: An Anthology Of Fashion" was to bring attention to designers – many of them women – that could be perceived as having been forgotten by history (which can be appreciated). Arguably one of the more compelling storylines that the exhibition viewer faced was the one created by the aforementioned Dash, which centered on the work of designer Ann Lowe.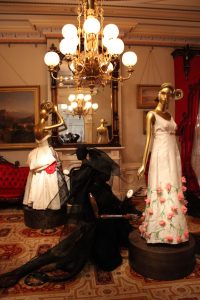 Lowe not only created the wedding dress of First Lady Jacqueline Kennedy, but she also designed garments for many distinguished women of her time such as Marjorie Merriweather Post and Olivia De Havilland. However, it was rare that she got proper credit (and adequate payment) for what she created. In Dash's vignette, Lowe is depicted as a shadow figure faithfully engaging in her calling as a masterful fashion designer to various wealthy clients. It evoked strong feelings and an immediate sense of recognition at what was happening at a visceral level. It was compelling on an emotional level that, if we're being perfectly honest, much of this exhibit was not.
And that is one of the problems with what the Met exhibition team put forth with "In America: An Anthology Of Fashion". This exhibit, while intellectually compelling, did not inspire any extensive level of emotion. The best art exhibits – and indeed, the best fashion exhibits – have that quality of inspiration that this one seems to be missing. We know that Bolton and his team are capable of producing this type of work; look at the Met's spring costume exhibitions from 2016-2019, for reference. "Manus x Machina" (2016) was superb. "Rei Kawakubo/Comme des Garçons: Art of the In-Between" (2017) did a magnificent job at illuminating the work of Rei Kawakubo over the years. "Heavenly Bodies: Fashion and the Catholic Imagination" (2018) was both a provocative and grand showcase of the intersection of fashion and Catholicism. Even "Camp: Notes On Fashion" (2019), as bizarre as some of the outfits were, had a strong intellectual underpinning that was clear on its direction and what it wanted to accomplish. So what has happened with these past two exhibitions?
Among many possible reasons, it would not be incorrect to say that the "In America" two-part series has suffered from a lack of a clear and focused message. This is not to say that one has to define American fashion in a neat and tidy box. On the contrary, 'American fashion' is many things – and that is one thing that the Met team has consistently mentioned over the past couple of years. But in attempting to explain everything from too many different angles, the team has explained nothing. We are left with many more questions than answers. Producing a thought-provoking work of art is good; producing almost no answers is unsatisfying to most viewers.
On another subject, another portion of the exhibit of which to take note is the vignette created by designer and filmmaker Tom Ford. In Ford's vignette, designed around the historic "Battle of Versailles" fashion moment of the 1970s, you'll find another of the signs of life that the exhibit was largely missing. Fashion – even at its most prim and proper – has an undercurrent of energy and excitement that draws in industry members and onlookers alike. It needs to maintain that feeling, as it is the lifeblood of what the industry is. When you don't have that, fashion becomes mere clothing – a heartbreaking transition for those of us that have maintained a love of fashion for many years.
Tom Ford, as someone that knows how to navigate both fashion and film, was a perfect addition to this assignment because he does both of these careers well. He would – and did – innately understand a project that merges the two disciplines with art better than the other directors. Additionally, if anyone is familiar with the "Battle of Versailles", then those people would know about the life, energy, and movement that both the works of the five American designers – Stephen Burrows, Anne Klein, Oscar de la Renta, Bill Blass, and Halston – and the models that wore their clothing brought to the stage. Tom Ford expertly captured that feeling. I would go so far as to mention that when one enters the room, the sense of knowing immediately hits you that 'Tom Ford captured "Battle of Versailles" perfectly'.
For the most part, however, I found myself more compelled by the interior of the rooms and the historical lessons contained in them than I did the fashion itself, which played second fiddle to the scene. And fashion should never be secondary in a fashion exhibition. What else can you expect, though, when you're bringing in film directors to build a fashion exhibit? These arbiters of Hollywood – quality though some of their films may be – are no substitute for a cohesive interpretation of a fashion exhibition theme.
I look forward to next year's spring costume exhibition; I'm confident that the Met team will regain their pre-pandemic footing.
The Costume Institute's "In America: An Anthology Of Fashion" is the second part of a two-part series that explores American fashion. The exhibit is open to the public to view through September 5, 2022 at The Metropolitan Museum of Art in New York City. The first part of the series, "In America: A Lexicon Of Fashion", is currently on display in the Anna Wintour Costume Center.
---
To subscribe to Manic Metallic's newsletter, click here. To follow us on Instagram, click here.