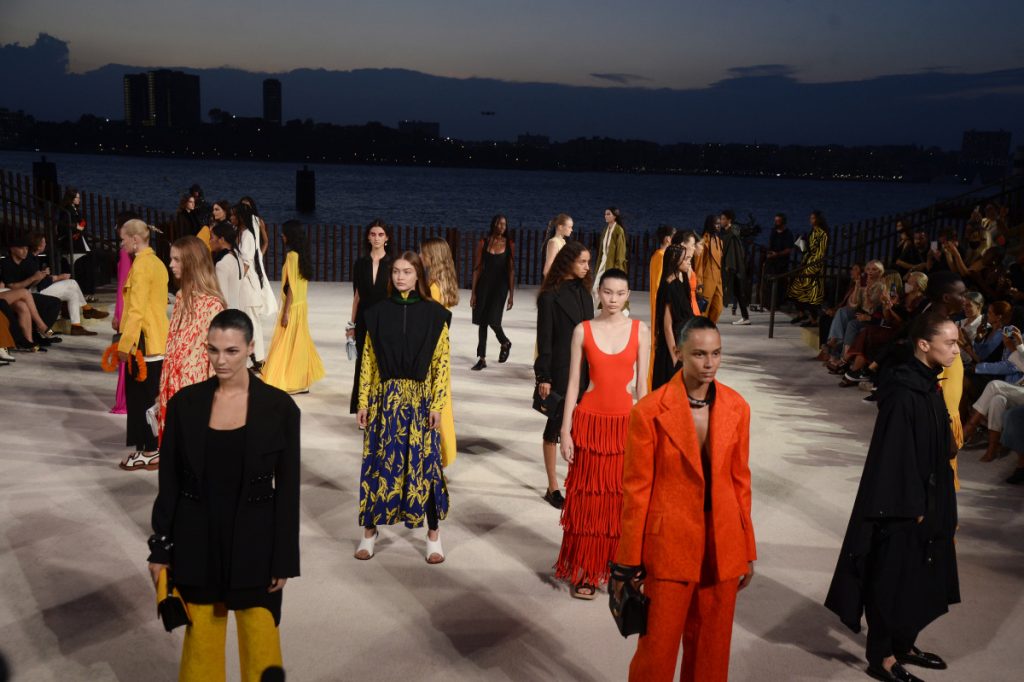 We are choosing to release our reviews of New York Fashion Week's Spring/Summer 2022 collections beginning today – as opposed to releasing them while NYFW was in session – for a couple of reasons:
We did not want to participate in fashion's continuance of an unsustainable breakneck pace forward – especially when so many in the fashion industry had called for a slower pace during the height of the Covid-19 pandemic (and even before that, in a few cases). For more on our feelings about fashion's breaking of its unspoken promise to slow down the pace of fashion collection presentations, CLICK HERE to read our last article.
We could not bring ourselves to sit and post fashion show reviews on the weekend of the 20th anniversary of the 9/11 terrorist attacks in New York, Washington D.C., and Pennsylvania. Other than a couple of designers and a panel moderated by Harper's Bazaar editor-in-chief Samira Nasr, acknowledgement of this somber moment was absent from the fashion calendar. We believe that the fashion industry as a whole showed a certain level of obliviousness in its failure to recognize the gravity of the moment.
With that said, our reviews will be limited to a few per NYFW date (Sept. 8-12) in which we took interest because it is next to impossible to cover every show without shortchanging both the collections and the quality of our work in reviewing them. We will continue to post our reviews to this article as they are completed. Do let us know what you think via any of the means on our Contact page (social media, email, etc.).
September 8th, 2021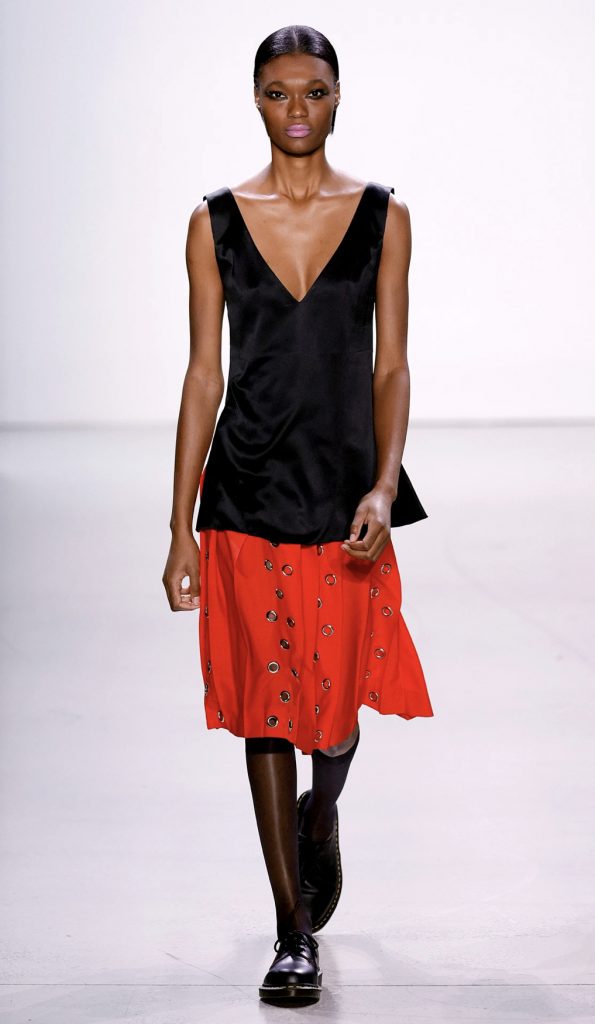 Duncan
Michelle Duncan's runway debut was a marriage of many marks representative of her brand and of a couple of new ideas brought to the fold during her winter spent in Miami, FL. For example, the tartan – which has its wool sourced from Scotland – has been included in the brand's looks throughout her first seasons in the industry. And the shirts bearing the brand's name were used in its first presentation, for the Fall/Winter 2019 season; a nice touch is that (per Duncan's website), the shirts are designed, sourced, and made in the USA.

One thing that one finds about Duncan's collections is that the garments all carry that element of professionalism. She also, however, describes her brand as creating clothes for the "goth girl gone corporate". While seeming like a severe oxymoron, she makes it work like a charm. Great tailoring is ever-present in Duncan collections, but so are Doc Martens, thick eyeliner, and dark lipstick. Dresses, skirts, and suits that can be worn in both the boardroom and the cocktail party are commonplace for her – but so, too, are both tartan and grommets. The Duncan woman exists within multiple seemingly disparate worlds – but the common denominator is her, and she needs clothes that will travel with her to each of them.

What the Duncan woman does not typically expect is a collection that even so much as looks at bright colors. Toward the end of the brand's S/S 2022 offerings, we are treated to bright pinks and reds. Whereas it might have been considered sacrilege to include them before, Michelle Duncan thought otherwise when she was in Miami for the winter and absorbing Florida's sunny culture. It is hard to avoid color when it is all around you. And thankfully, she didn't. The result turns out to be exactly how one could expect that a punk would integrate color into her wardrobe: keeping the Doc Martens while sticking her toe into the deep end to test the waters. The addition of knee-high stockings to the Doc Martens loafers was an interesting look that paired nicely with the stripes, tartans, embellished prints, and (of course) the brand's newfound colorful pieces.

There are plenty of desirable pieces in this collection; both corporate powerhouses and alternative types have many choices from which to choose.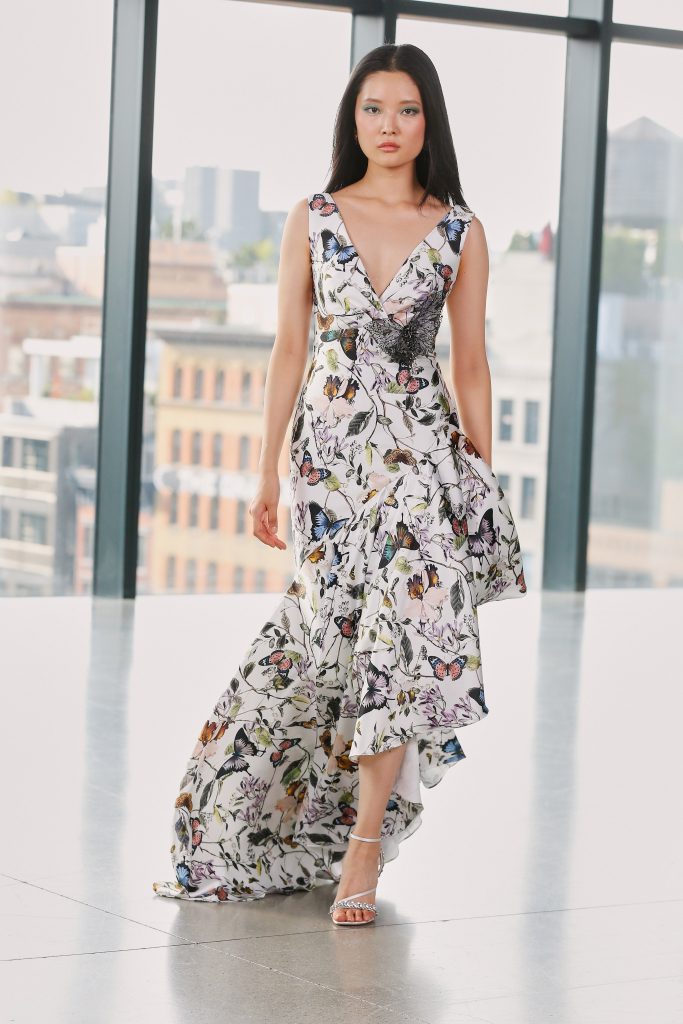 Badgley Mischka
Badgley Mischka's collection is a nod to the reemergence of the brand's customer (and most everyone, really) onto their various social scenes. This interpretation moves forward in a couple of ways:
The inclusion of the butterfly in multiple iterations (such as the look pictured above) throughout the collection is symbolic of the theme of transformation. As a caterpillar's chrysalis gives way to the beautiful winged insect that we've all come to love, the butterfly emerges into the world with excitement and anticipation of what its new life will bring. In this case, we're referring to the brand's customer. Her mind is in a transition phase where she wants to get back to her glitzy ways, but she has now become attached to the idea of comfort. She demands the same level of comfort that she experienced during lockdowns, but also wants to combine that with her previous life of dressing to the nines to socialize.
Bright colors and vacation-ready prints could be found throughout the 37-look lineup. Blues, reds, and yellows abound, and both flowers & toucans (in addition to the butterflies) made their way into the collection. Badgley Mischka is known for color, so it's not exactly a surprise that they included it here; nonetheless, it does fit with the theme of the show.
What Badgley Mischka gave the public is a pared-down dose of the casual elegance that their audience has come to expect from their output. The glamour quotient is still there and kicking, though. This outing, made up of primarily dresses with a couple of suits thrown in for good measure (a light-blue pearl-encrusted blazer was a notable piece), will give their customers something to look forward to for 2022.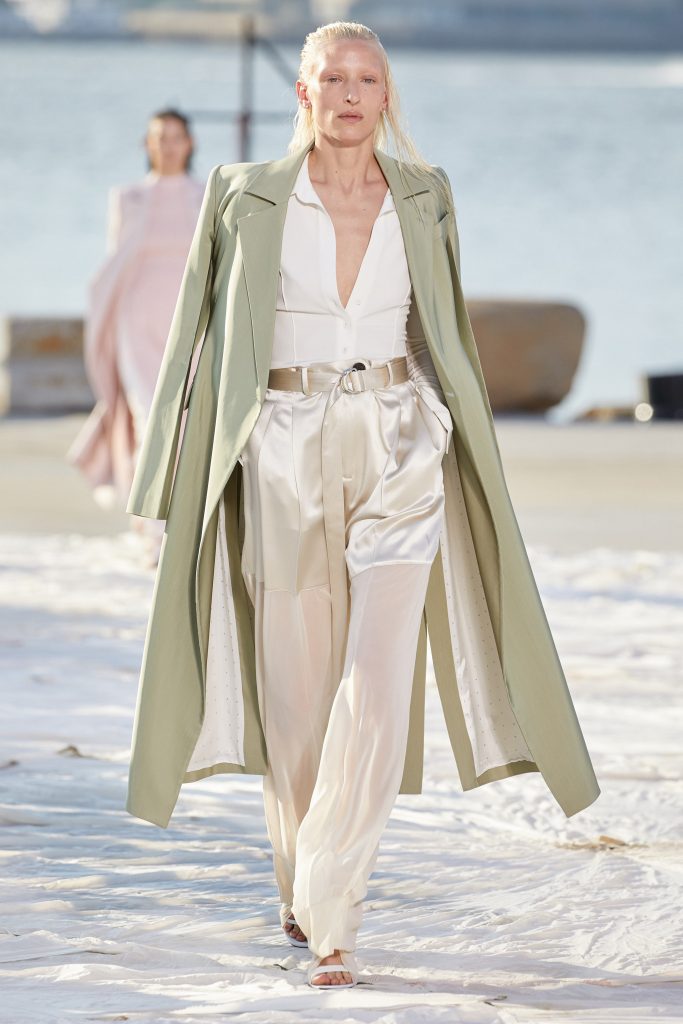 Peter Do
Peter Do's show – the brand's runway debut – was possibly (no, unquestionably) the most hyped show of New York Fashion Week. Did his collection live up to the hype?

Well, upon first glance, it was a very minimalistic collection – that is no different from how his collections usually are. Peter Do's work has been appreciated since the beginning of his career because the brand does the basics well: garment cuts, construction, fabric choice, and tailoring – while putting his own spin on the details of his creations. These details, along with the aforementioned skills, are what make the Peter Do garment.

That said, the brand's clothes are upgraded minimalism. And it is not as if we haven't seen minimalism before. We could name off any host of fashion companies that fit the category: Jil Sander, Helmut Lang, and Phoebe Philo's Celine (the latter under which Do worked prior to starting his brand in New York in 2018) instantly come to mind. But does that take away from what Peter Do has done? Absolutely not.

Looking specifically at this Spring/Summer 2022 collection, save for a few pieces, the color palette was restrained – again, though the brand isn't color averse, it's not unusual for the majority of pieces to be neutrals or otherwise soft tones. Do gave his audience some of the tailored-but-comfortable pants for which he's become well-known, as well as light pleated skirts that would play well on a hot summer day. Both of those, together with the high-quality suits and coats, make for a collection tailor-made for weary onlookers that just want to look good without complication; the world is difficult, as it is.

The fashion industry – and consumers – will always be in need of well-made clothing created by a designer that knows how to put their nose to the grindstone and simply do the work.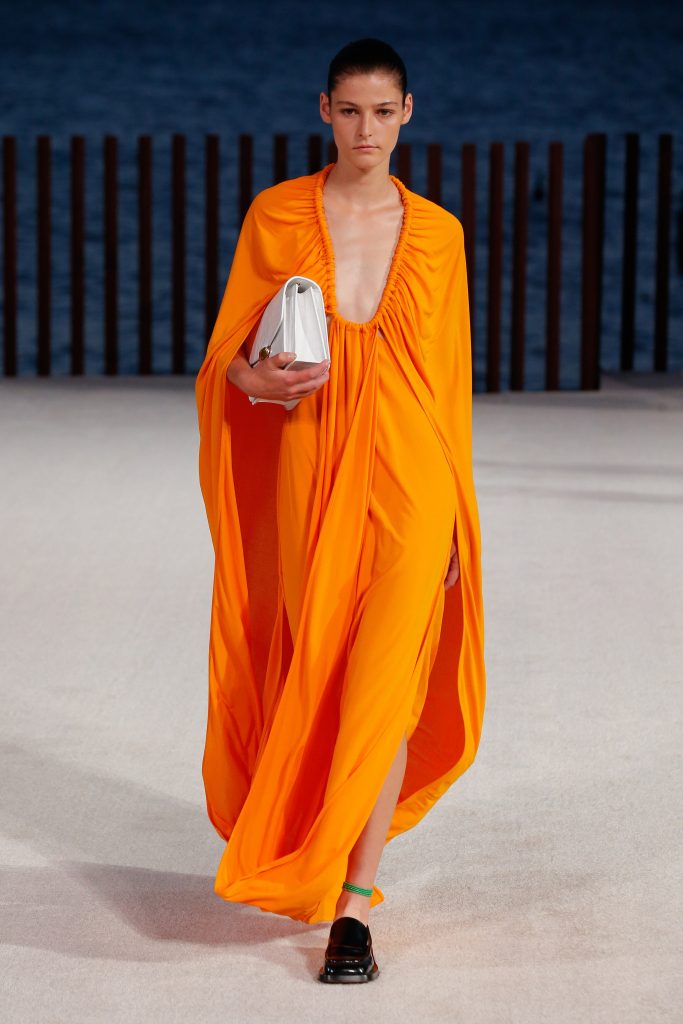 Proenza Schouler
Proenza Schouler's collection had vacationing in mind. That translated into clothing imbued with an attractive sense of ease and energy. The bright colors (yellows, neon pink, red, orange, etc.) – all along the warm color scheme spectrum – convey an excitement to rejoin society and an optimism for a new world. Many of the collection's colors were also emblematic of the sun, indicative of a need to remain rooted in comfort and to retain a bond to the familiar while exploring new territory in our lives.

Also lending itself to a fun and pleasurable environment was the frequent presence of fringe at different spots in the collection. It was present along the hems and sleeves of dresses and other garments. It lent a sense of movement to the proceedings – and fit well with the chosen venue of Little Island for the brand's show. The long, thick beaded fringe was of particular interest.

Shoes and accessories of note were the Hawaiian leis (pointing to designers Jack McCollough and Lazaro Hernandez's recent vacation to Hawaii) and the square-toed shoes, worn in both loafers and sandals.

Surely, this show was one of the highlights of Day 1 of NYFW.
September 9, 2021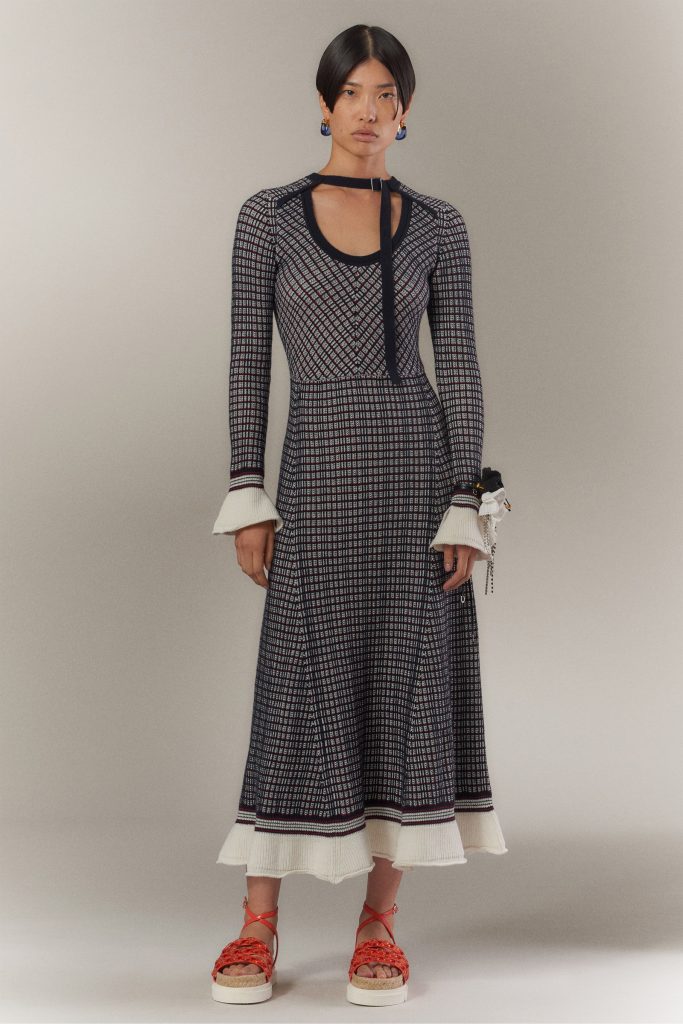 3.1 Phillip Lim
Phillip Lim's latest collection was inspired by his garden in North Fork [on Long Island] – more specifically, by the color palette that it contains between his flowers and herbs. And, we must say, it is such a refreshment to have a designer reference a garden while not being entirely too literal in the interpretation of the fashion design (i.e. floral everything, for example).

As many a garden would present, the brand's collection is based in neutrals with a healthy serving of color. Neon tweed immediately stood out; it came in the form of an entire outfit – a sleeveless top, shorts, and heels – in one case, and a short-sleeved dress in the other. A couple of yellow plaid pieces – particularly the blazer/shorts combo – and a few pieces containing a purple and green geometric pattern both offer enough variety without going overboard.

There were plenty of wide-legged pants to be found, and the knitwear pieces that Lim had on display should prove successful. With regard to shoes, the sequined sandals are an easy-but-stylish pick; so were the platform sandals that came in a couple of different colors.

3.1 Phillip Lim is generally a good bet for feminine-but-urban looks that maintain functionality, and this time is no different.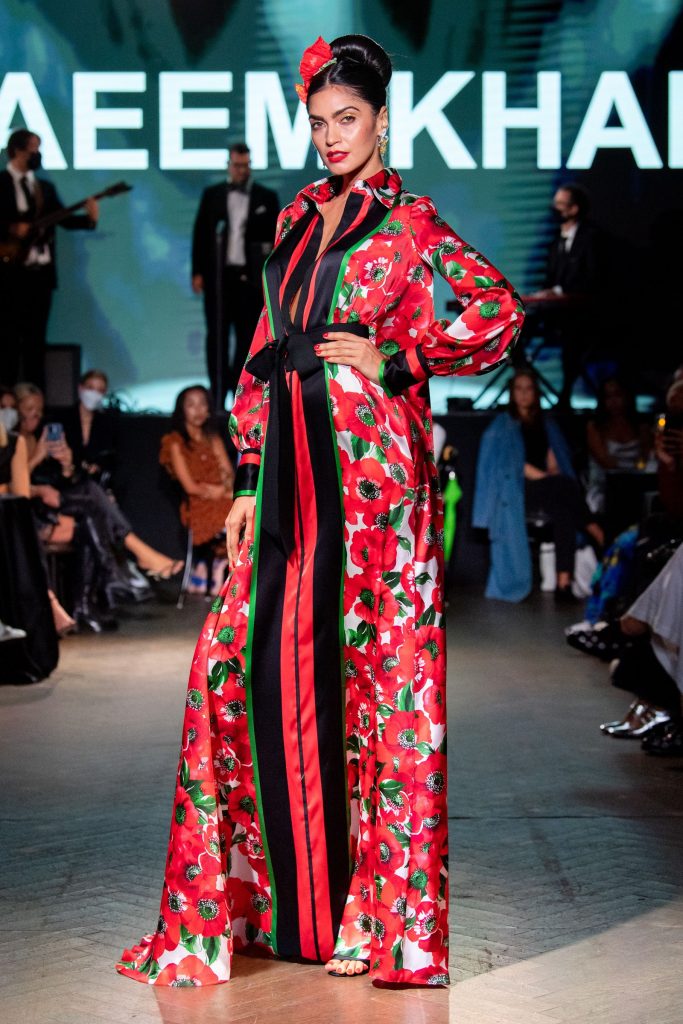 Naeem Khan
There was a color and print explosion at Naeem Khan – much more than usual. Khan is seemingly ready to head to a tropical island.

The show, for the most part, was broken up pretty neatly. Seashell & coral prints led off the show, followed by different versions of flower prints. Next up were a few of Naeem's usual leopard print patterns, which gave way to bright reds, yellows, and a neon green dress along with a few partially transparent green and blue numbers. After a few pieces with fringe and ostrich feathers, black garments took hold and closed the show. The show was so heavy on color and prints that it could very well have been a resort collection instead.

Whether you want something form-fitting or something that gives you more room to move, there was something for you. Ball gown skirts and dresses showed up a few times, as did tropical caftans. Printed skinny jeans and fitted dresses were a part of the collection's proceedings, as well. The couple of looks that combined flowers with leopard prints were weak points, and the collection could have done without them.

The slick, sophisticated hair that saw each model sporting either a red, yellow, or orange headpiece combined nicely with the red lip, which pulled each look together.

With a couple of exceptions, the Naeem Khan woman wearing these looks should make a dramatic return to the outer world.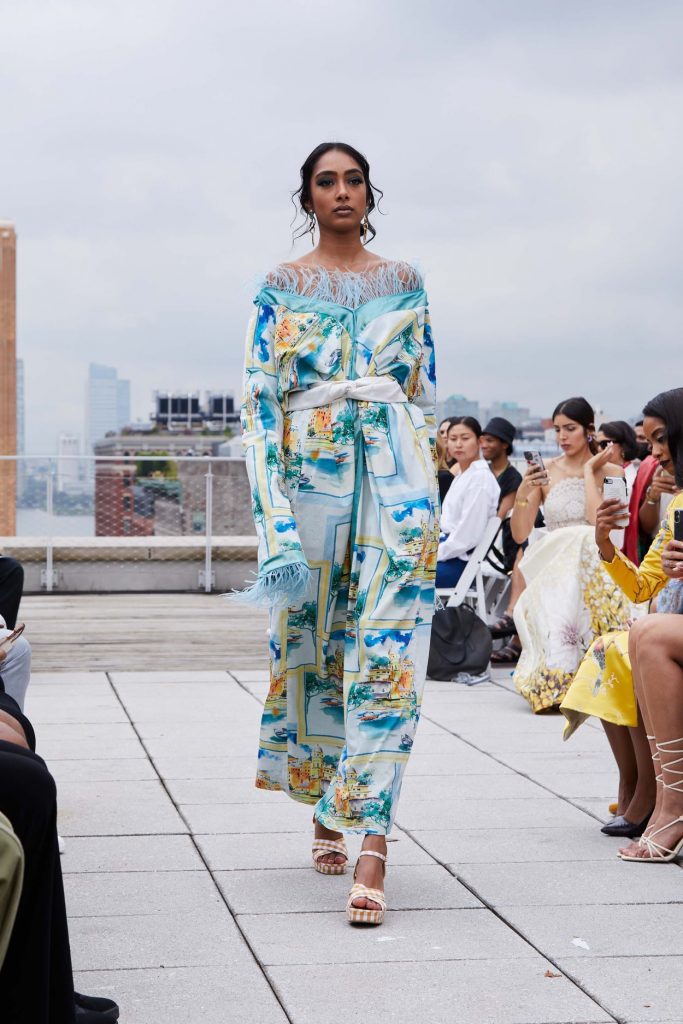 Dur Doux
Cynthia and Najla Burt, the mother-daughter duo behind Washington D.C. label Dur Doux, sent out a Spring 2022 collection that lends itself well to meeting the world after emerging from the height of the pandemic (we've noticed that this seems to have been a common thread with designers' creative motives this season).

As a whole, the looks had a fun and breezy feeling about them. Leaf-prints and palm tree prints were numerous, as was a specific village illustration print that made itself known in quite a few pieces. The brand likes to use tulle in its designs, so it was of little surprise to see a few dresses made from the fabric walk down the runway. One exceptional example – a long-sleeved aqua minidress with layers of tulle emerging from the front portion – seems like just the type of thing that a young, trendy woman would jump at the chance to have.

Orange, blue, and green hues, along with brown tones, made for a peaceful overall environment. Most models had some form of hair wrap in place, and more than a few were wearing midriff-baring styles. With this in mind, Dur Doux's inclusive casting choices – with respect to age and size – were very much welcome. It showed that we can all engage in celebratory occasions, regardless of any outward factors.

With both their talent and penchant for inclusivity, Dur Doux still has so much potential to do great things in the fashion industry. We will be waiting patiently for it to happen.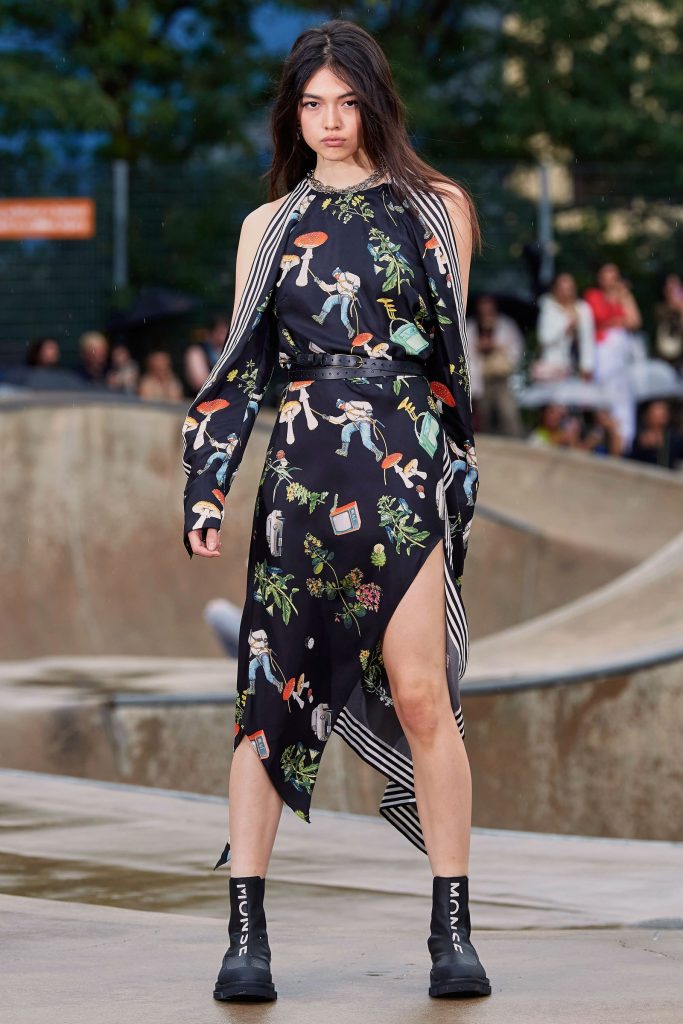 Monse
With this outing, Monse – who no longer abides by the fashion calendar, and opted to show its Resort 2022 – made a clear appeal to youth culture. Particularly, to youth – having lost well over a year of their fun years – looking to reclaim that time. Monse did this with exposed shoulders, a few crop tops, and both cargo and jogging pants. Sneakers and various-colored combat boots served as the collection's footwear, and grommet and silver chain necklaces stepped in as the jewelry offerings.

Co-founders Fernando Garcia & Laura Kim used a theme of escapism and trips as they were in the process of creation. One of the more interesting ways that this took shape was in the form of prints that included mushrooms, alluding to a drug trip. The print being spoken of, of course, is the one containing mushrooms, televisions, and a climbing man. In fact, one wishes that the brand had leaned more into the "drug trip" idea; it would have given the collection a more subversive and playful vibe.

Other pieces at which to take a look include the coats with cord lacing. Those are different, and are a nice match for the combat boot aesthetic.

Overall, it was a fairly casual collection despite the few evening dresses on display.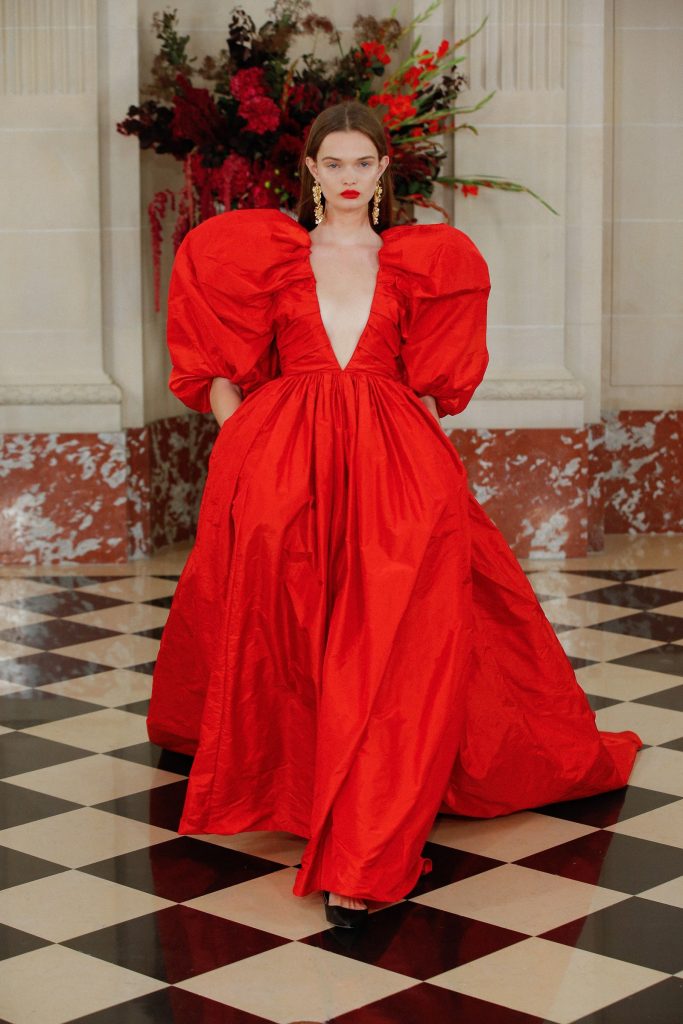 Carolina Herrera
Carolina Herrera's 40th anniversary, held at a gallery on Manhattan's Upper East Side, was a bit understated while carrying a sense of romance about it. The first 11 looks were differing combinations of black and white. A couple of minidresses and a black-and-white halter dress containing tiers of tulle were eye-catchers. Look number two, a very sharp suit with flared shoulders, would be an interesting choice to wear to a board meeting.
Next up were colorful dresses that integrated flowers and polka dots into prints. These were quite flattering, including the two off-the-shoulder minidresses – one with bulbous sleeves and the other with a train. Following were a few logo pieces – dresses and bralette tops – that managed to make logowear appear classy because the pieces were made to look like a print instead of logos.
Wes Gordon decided to play with gingham in the latter half of the show, giving it the sequin treatment on skirt suits and minidresses. A few dramatic, voluminous dresses showed up towards the end; these were showstoppers, obviously meant to be worn to events like galas, balls, and awards shows.
Red, pink, white, and black dominated the color palette, with other colors such as yellow and blue being mixed in toward the middle. Shoulders seemed to have been emphasized, whether it was through their exposure in ball gown and halter dresses or through bulbous or flared sleeves. The jewelry choices were meant to be noticeable, and they were fine. The square-shaped beaded hoop earrings were memorable. How the jewelry was styled, however, was an issue. There were multiple occasions where large necklaces were paired with the aforementioned earrings, for example. It's not clear whether this was on purpose, but it was overwhelming.
Further, the giant gold belt loops featured on a few looks were unnecessary. They were a distraction, and the garments on which they were shown were designed well enough that they did not need them.
This collection was designed primarily for the uptown customer, with a few looks that seem to seek the attention of a younger consumer. It inspires a sense of happiness, and the designs were a nice change from the showy prints and tropical-themed shows of the season.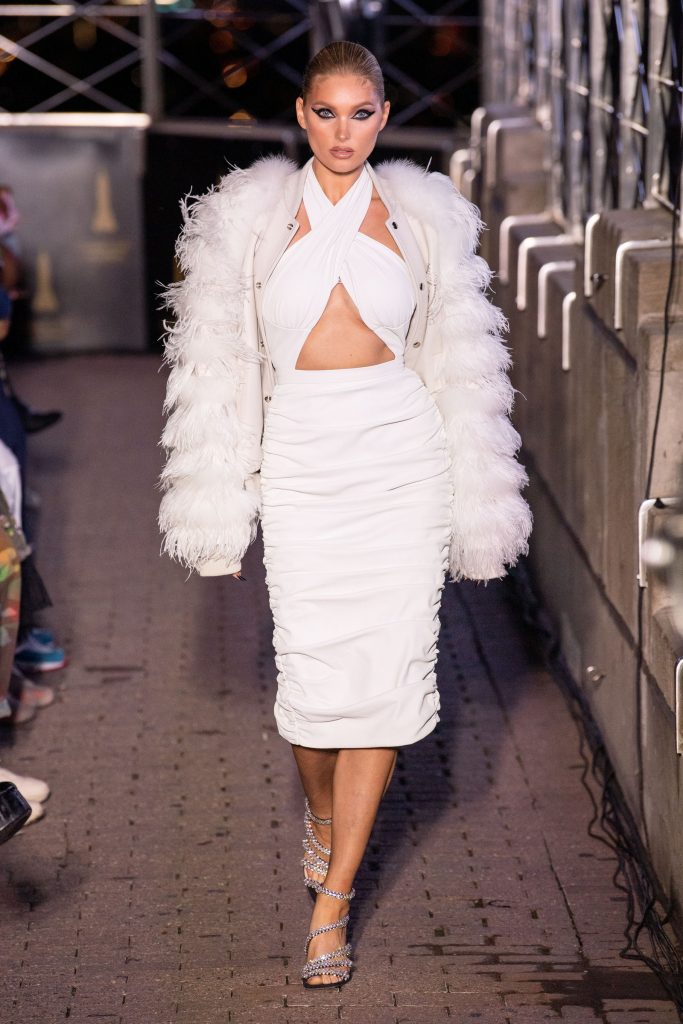 LaQuan Smith
LaQuan Smith's show gave designer Peter Do a run for his money in being the most anticipated show of the season. Those in the industry were keen on seeing them for different reasons, though; Smith reserved the Empire State Building for his fashion show. We're not sure that the clothing lived up to the hype of a show being shown at the highest levels of the Empire State Building. But then, he set himself a pretty high bar with his location.

The designs in the show were high-gloss, body-conscious looks that allow the body to be seen. This is consistent with the look that the 33-year-old designer has shown since he started his career. Dresses, skirts, and midriff-baring tops were common in both neutrals and different shades of red and blue. Smith included terrycloth in order to offer customers a means of comfort. For those that aren't ready to let go of pandemic comfort (we are aware that this term seems oxymoronic), these pieces should come to the rescue. Additionally, legs were spotlighted; either bare or "covered" in fishnet stockings.

This is a collection that, for the most part, comes ready-made for nightlife culture. One has to be comfortable with one's body to wear LaQuan Smith's clothing, because there will be nowhere to hide in these garments. And maybe that's the point.

Smith's output is not for everyone, but for those that enjoy his work, they will have many pieces to love from this collection.
September 10, 2021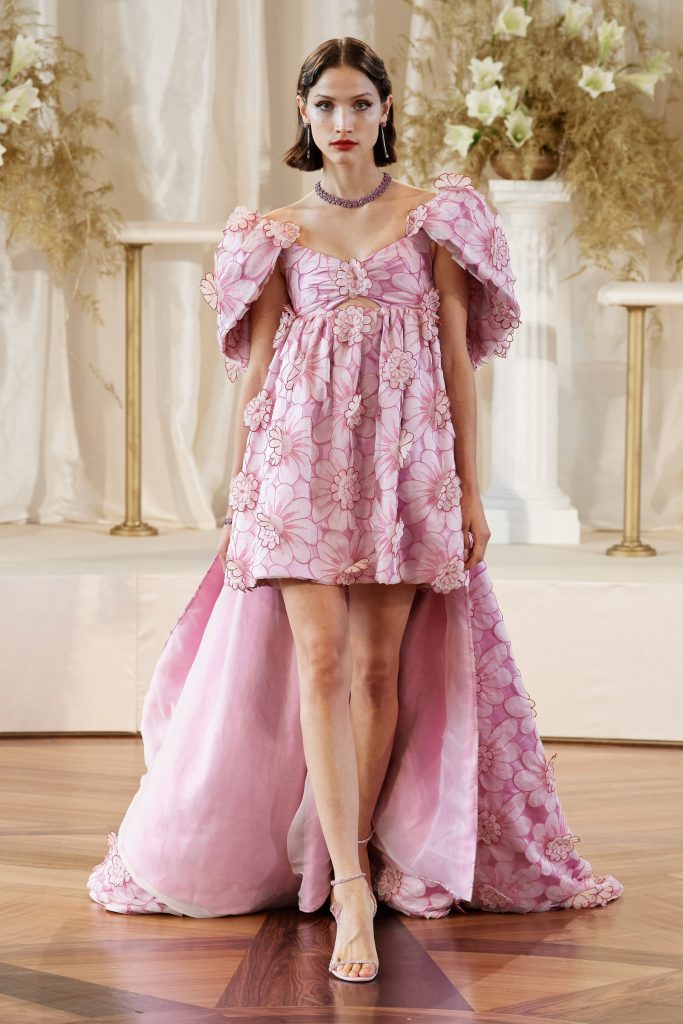 Markarian
Markarian designer Alexandra O'Neill, well-known for her party and wedding dresses, sent out a sweet, ladylike collection with respect to both the color palette and the designs. The show – held at the top of the Rockefeller Center in the famed building's Rainbow Room – was dominated by pink for the first half before it moved into pastels and, finally, white.

As a primary brand specialty of theirs is eveningwear, there were a fair number of dresses while only including a few skirt suits. Those that were included, however, were appealing. Perhaps First Lady Jill Biden would be interested in trying one or two of them on for size?

Flower prints were common, as were sequins. One pink flower-patterned dress – pictured above – carried a train that drifted behind the model as she moved in her minidress. And the first two looks – both long, sequined pink gowns – looked fit to make one the star guest of one's best friend's wedding.

Cat-eyes were the predominant makeup look here, accompanied in a few cases by net hairpieces that extended to fall in front of the models' faces.

Presumably to play up the female shape, the waist was very well defined throughout the entire collection. That may not work for some, but if it does work for you, then you have a host of appealing garments from which to take your pick.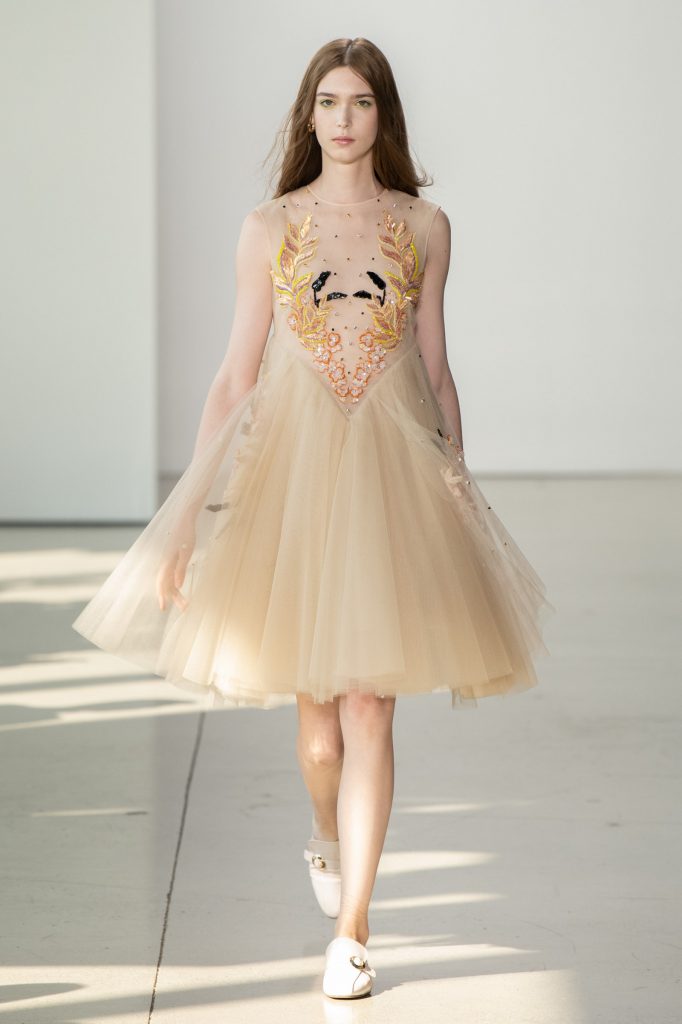 Bibhu Mohapatra
For this to be a Bibhu Mohapatra collection, his Spring/Summer 2022 offerings were surprisingly spare. The 34-look collection was made up of predominantly neutral tones and greens, with a couple of denim pieces and one lone lavender floor-length long-sleeved dress being the only ones that strayed from the others.

Mohapatra used this opportunity to mine his archives for previous silhouettes to reinterpret. There were a few floor-sweepers shown, but many looks were more casual. For Bibhu, however, this means taking his garments from elaborate and embellished to being softer while still being upscale.

Something else to take note of here are the nature-inspired prints. In creating these, he used the collaging technique of Jamaican artist Ebony G. Patterson – known for her ornate tapestries.

What this collection accomplishes is giving his core consumers what they want (beautiful, well-made dresses) while drawing in a new level of consumer that wants to keep things a bit more simple. Neither is bad, simply different.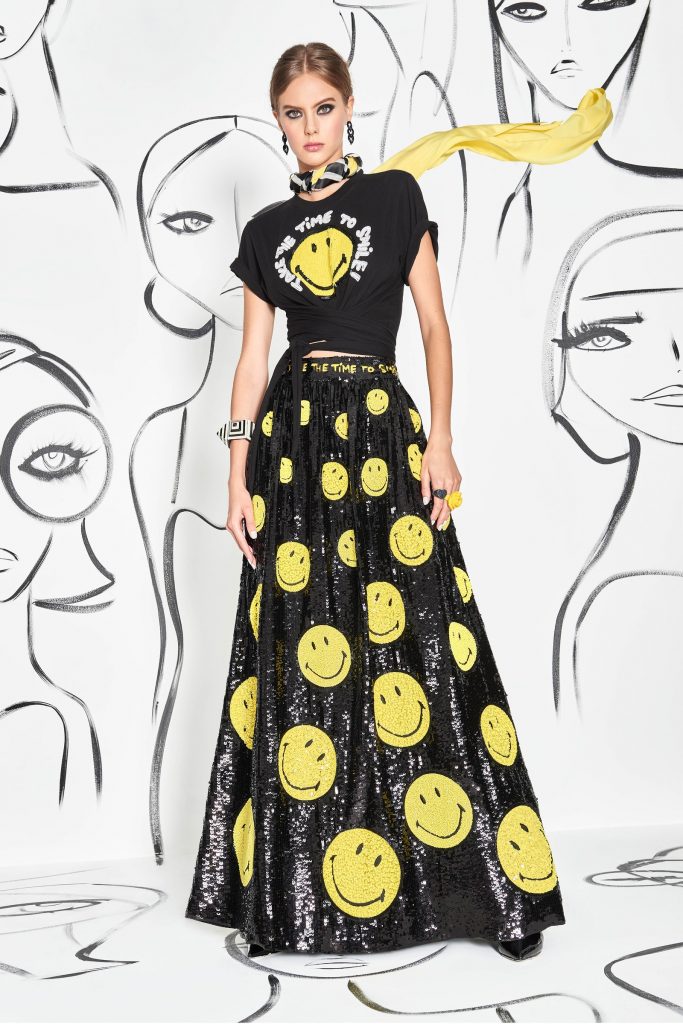 Alice + Olivia
Designer Stacey Bendet delivered what she knows how to do best for the Spring/Summer 2022 season: fun and energetic clothing that is easy to enjoy. The pieces were bright and bursting with exuberance – almost as if she was influenced by a large box of crayons.

She started off with solids, beginning with warm colors – red, orange, and yellow. She followed those with cool colors – greens and blues. The next portion of the show, save for the black and white pieces, veered into stripes and prints territory. Pleats figured into the order of things a few times, as did flowers and multi-colored striped garments.

Two pieces that stood out were the jumpsuits: one was neon green with cutouts at the midriff, and the other split black-and-white down opposing sides of the piece. The sequined cropped cardigans and the long-sleeved horizontally-striped sequined minidress should prove popular, as well. And there were two flower dresses toward the end that were well-crafted that deserve a mention.

The happiest look in the collection, though? That would be Look 24: a black shirt and a sequined maxi skirt emblazoned with yellow smiley faces. We'd all do well in these seemingly harsh times to follow the look's advice: "Take The Time To Smile". Alice + Olivia's collection, while not out of the ordinary for Bendet, gives plenty to smile about.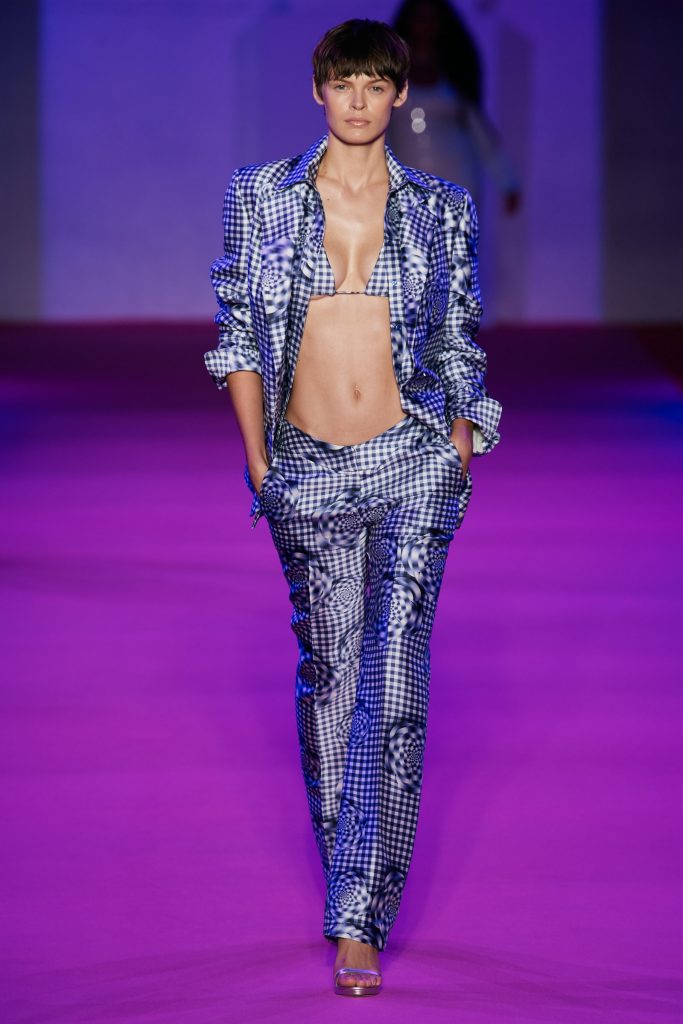 Brandon Maxwell
Brandon Maxwell went into these Spring/Summer 2022 collections with the thought in his mind that he wanted to show more of who he was in his designs. And what did that give us with regard to his work?

A swirl of gingham and psychedelic prints, coming together (separately) in unique combinations. Mushroom prints were shown, with those being the result of a collaboration with Texas artist Mishka Westell. The psychedelic prints were common, appearing in pinks & reds, black & white, and blues & greens. Both long pleated and short fringe skirts were thrown into the mix, as well as shorts.

Not that this left dresses and pants out; to the contrary. Dresses came in everything from long and pleated to fitted and psychedelic. There were two gingham dresses, however; the blue and white one, with its ruffled neckline & sleeve hems and its blurred flowers, is one of the better pieces in this entire collection. The few pairs of pants that did show up were paired with bare midriffs, bra tops, and blazers.

We have noticed that bare midriffs seem to be very much in style for next year. For those that don't feel as confident in their upper body, well, they'll have to turn their attention away from this trend. Maxwell had other pieces that are more accommodating to those consumers.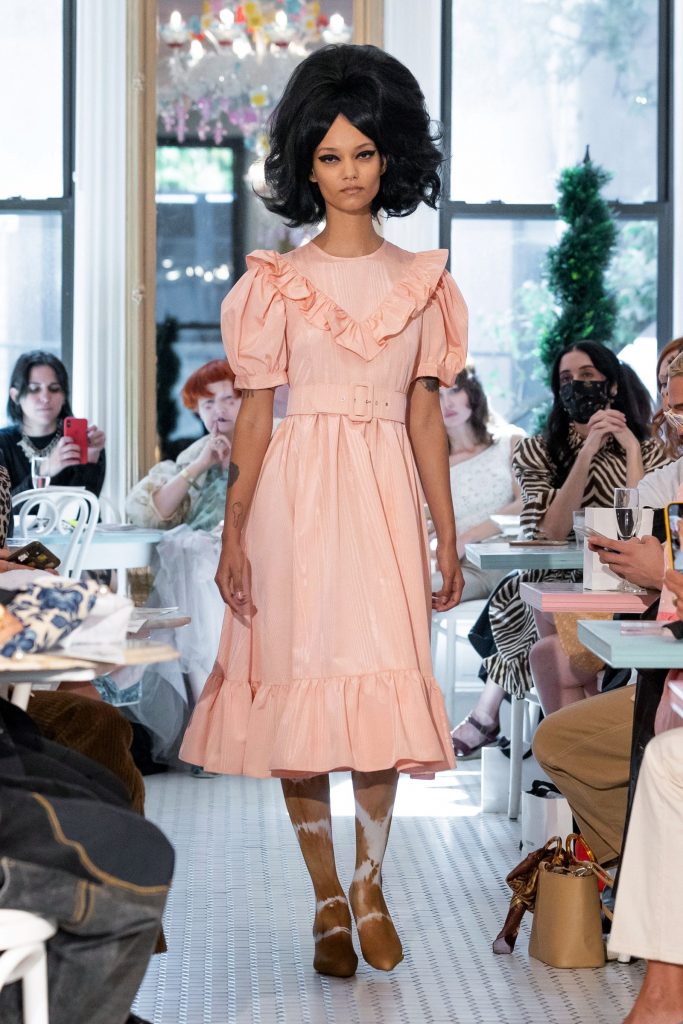 Batsheva
Designer Batsheva Hay has a penchant for creating clothing that has a natural vintage look about them. It's likely because she takes her influences from historic periods such as the Victorian era and from housewives of previous times.

With this particular show, she was inspired by childhood birthday parties. Her venue, Serendipity3, was one at which she had a party when she was younger (both she and her husband grew up in New York) – making it a natural choice for her Spring/Summer 2022 show.

True to form, this was a retro-appearing collection; it was tempered with a bit of edge, however. The large bouffant hair and the heavy eyeliner paired with a black lipstick (the lipstick appeared with only about 25% of the looks) gave the show a rough feel, especially with the inclusion of Doc Martens at certain points.

The show didn't have a strong design lineage that drew the pieces together, which is not inherently a bad thing in a show if either the house's overall concept or the specific show's overarching point is strong enough that the clothes are great supporting actors.

These clothes meet that threshold. Batsheva designs feminine designs that, again, draw from historical influences and tropes of women. She takes the positive aspects of each period/trope, and she discards the rest. What one gets are unique pieces that guarantee being noticed. The dresses, skirts, and pants in this collection could just as easily be worn while lounging at home as they could on either a date or an outing with friends.

And, really, don't we all want more versatility out of our clothing?
September 11, 2021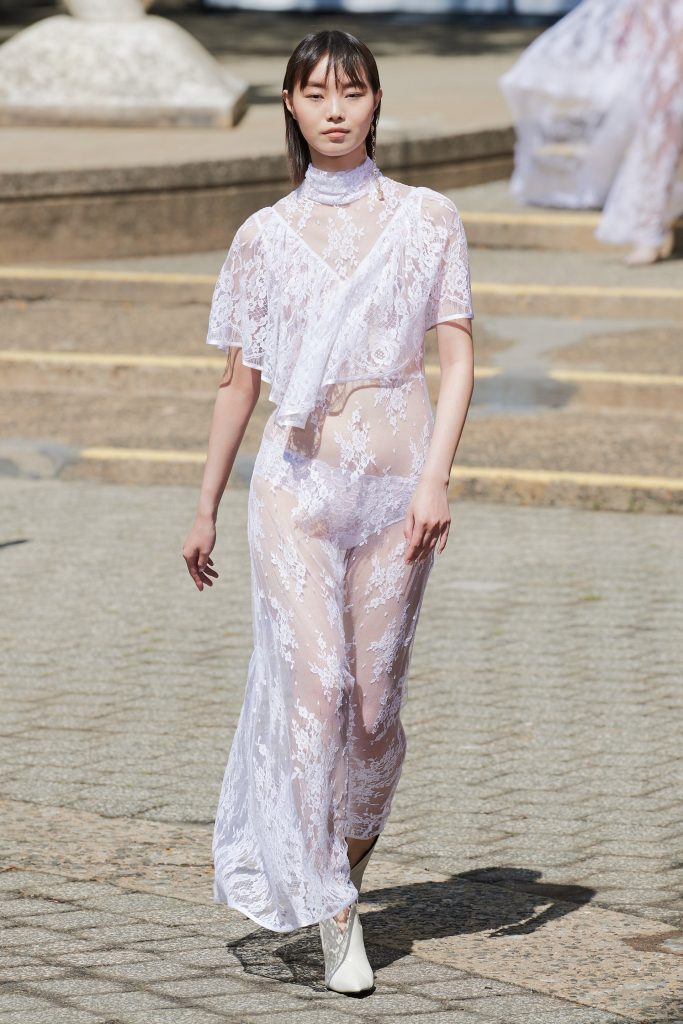 Rodarte
The Mulleavy sisters looked to center their collection around Western landscapes and the spirit of their native portion of the United States (they are a Los Angeles brand). This took a variety of forms.

One of the most obvious ways was with the cowboy boots that were worn with many of the looks. But this was no Wild West outing. We'd say that the spirit manifested itself here more than looks that we'd typically associate with the region. It was there in both the airy lace dresses and those of the fringe variety that were inserted into the middle of the show. It was there in the pairings that combined midriff-baring tops with one-legged leggings. Those showed a willingness to be brave that only comes with living near the ocean in a warm-weather climate, as a lot of skin is on display in an unorthodox, almost beachgoing manner. And it was there in the other garments that were created in fabrics designed to allow for movability.

When many think of the West Coast and other areas on that side of the US, we think of freedom and spaciousness. Since the beginning of the entity known as the United States of America (because indigenous people were here long before that), citizens have very often moved west when they wanted to make a change and carve a niche for themselves independent of the major East Coast cities. So, when we look at Rodarte's collection, we realize that it touches on that desire to move in a Western direction in search of freedom and progress.

A now-familiar print to the Spring/Summer 2022 collections showed up as well. Cape gowns with mushrooms on them made their way down the runway, which makes us think that some of the psychedelic prints that we've seen from designers are an allusion to wanting to go somewhere. Anywhere. Anywhere but here, wherever 'here' is for you at the moment. We understand that desire, given the current world in which we live.

Other sightings worth mentioning are the hand-beaded cape with a green alien on the front – which seems destined for streetwear stardom – and the tunics with the thigh-high slit shown toward the end. Those were all sent out on models in varying shades that appear in sunsets. They were simple, but will certainly do the trick for those looking to keep their wardrobes simple and freeing next year.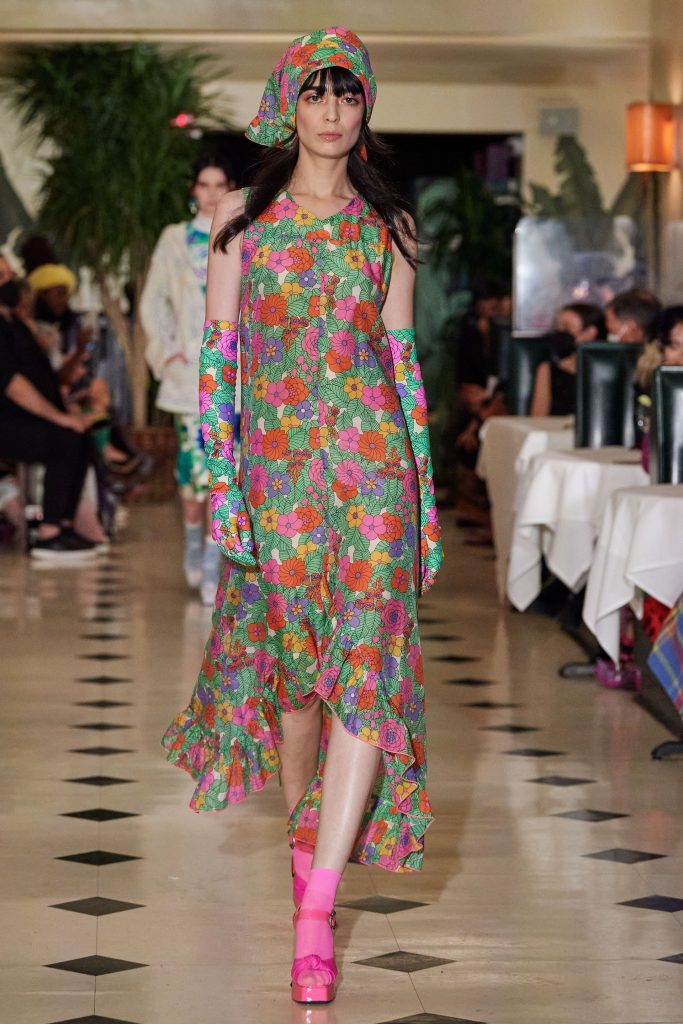 Anna Sui
Anna Sui can always be counted on to keep things light and optimistic. In this collection, she did that by dreaming about, like many other designers, vacations to tropical destinations.

It's a collection filled with a melange of bright colors, prints, and stripes. Her collection was, in part, influenced by the work of artist Niki de Saint Phalle. The pinks and greens were vibrant and full of life and the flowers, while not groundbreaking for spring (see what we did there?), they were cheerful – such as the look posted above.

We thought that the raffia hats were a nice touch, as were the sunglasses. But if you're used to Anna Sui's output, there aren't a lot of new concepts here for you to take in. There is no element of surprise. If you are new to Anna Sui, however, you might be blown away by the fun dresses, shorts, outerwear, shirts, and accessories.

Regardless of where you fall, Sui's work – with its similar threads with each passing season – is like a familiar best friend ready to pick you up when you fall or lose hope. And she'll make you, like her, look good while doing it.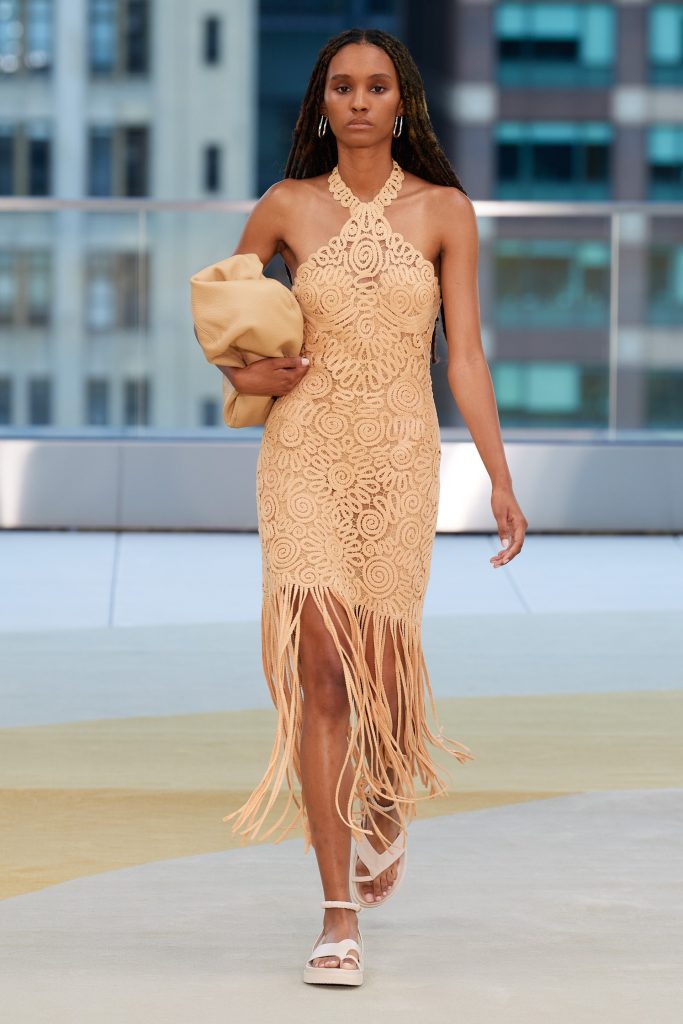 Jonathan Simkhai
This was an important collection for Jonathan Simkhai, because he used it to launch his brand's footwear line. The wide selection of boots and sandals that were shown should satisfy the denizens of fashion.

With regard to the collection's clothing, the designer presented soft tones and neutrals that offer the consumer comfort and ease. These are clothes that are put together enough to go out in, yet comfortable enough to lounge in. Crochet, which he is becoming known for, was common enough; a crochet suit was a standout. Paired with sculptural gold earrings slick hair, and dark lipstick, the model looked ready for a night on the town. The crochet pants, of which there were a couple of iterations, could prove to be popular.

Fringe was present along the hems of some garments. There was a beige coat that contained fringe that extended up well into its body. That could be a surprise hit as well. Though, if it's meant to keep you warm, it may or may not work; the fringe is both a blessing and a curse (though, it is for the spring/summer; warmth might not be of concern).

Also present were long-sleeved dresses that one could simply slip on for an easy-but-glamorous look. And, as with other collections this season, garment cutouts were a part of the show. They were done tastefully, though, so there isn't an issue.

If one is looking for straightforward-but-stylish clothes, Simkhai gave many great options.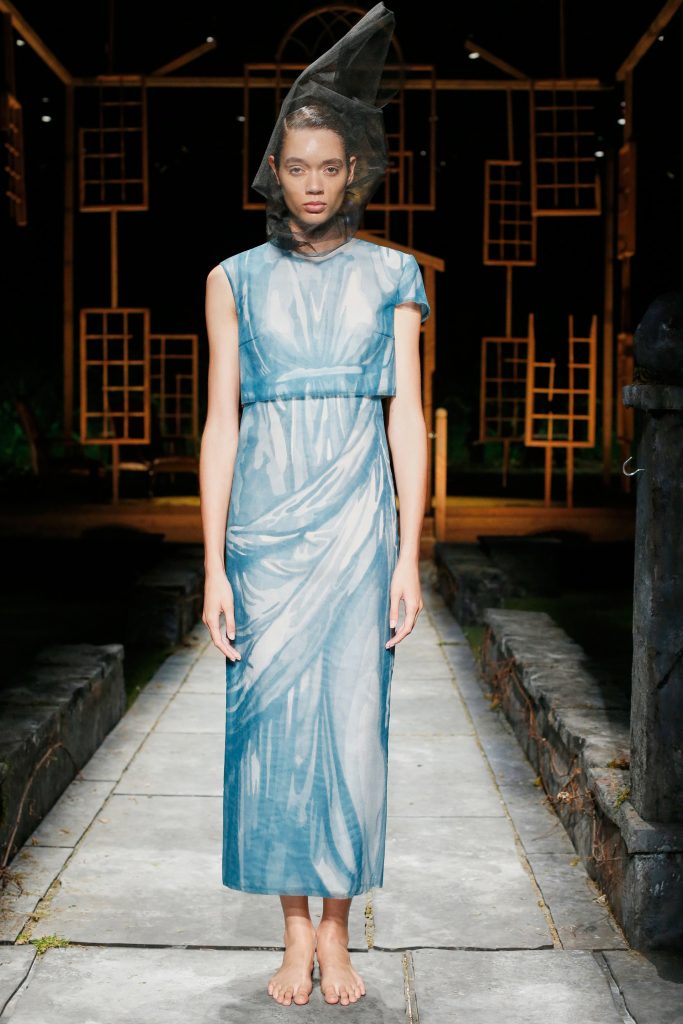 Thom Browne
Designer Thom Browne decided to grace those of us in New York with his presence for a season by showing in our fair fashion capital. He wasn't here for us, though. He was here in support of his partner, Met curator Andrew Bolton, whose fashion exhibition "In America: A Fashion Lexicon" is showing at the Metropolitan Museum of Art beginning on September 18th. And, Thom is an American; why not use this as an opportunity to show support for American fashion?

The Allentown, PA native is nothing, if not a designer that provides impeccable execution. One can see the superior quality and construction in the garments that he presents, as was the case with this outing. The models were styled to be garden statues within Browne's theatrical setup at New York's Hudson Yards, and that came across in the long, lean lines in each look paired (in some cases) with face paint designed to look like decay. In this, one sees another way in which Browne was inspired – by old statues housed at the Met.

The tulle dresses were striking, and one could be forgiven for thinking that they were painted; they were all constructed with 5-6 layers of tulle. It takes meticulous design skills to pull that visual trick off, the designer was able to get it done very capably. They came in multiple colors, and we can't imagine them sitting on shelves for too long before buyers close in.

The first two looks – floor-length capes with handmade gray flowers have a future on a red carpet somewhere in the world. There were also many looks present, including outerwear, dresses, and suits, in patterns such as herringbone and prince of wales; those made for simple, but subversive pieces.

It was nice to see Thom showing in the city again. One wonders when (or if) he will return.
September 12, 2021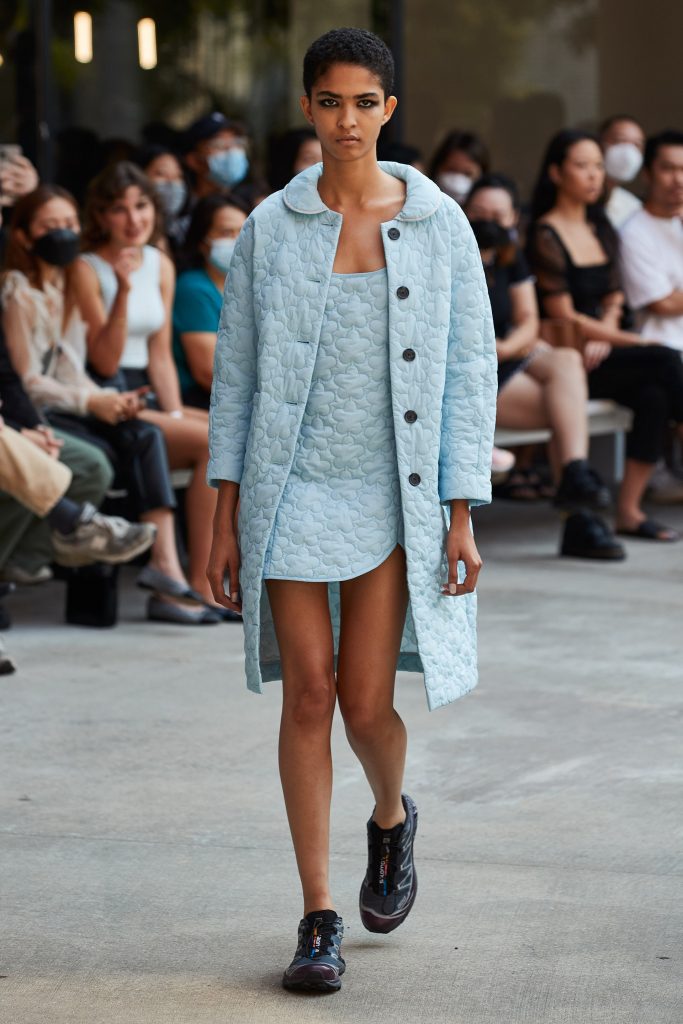 Sandy Liang
Designer Sandy Liang sent her version of femininity – one that combines the concept with an element of sportiness – out onto the Spring/Summer 2022 runways. The show, inspired in part by Sofia Coppola's Marie Antoinette, displayed a color range of blues and pinks along with neutrals. Many looks took the opportunity to place legs front and center, whether that was through the numerous minidresses in the collection or via models sent out in nothing on the lower half except eyelet undergarments.

Eyelet, in fact, made plenty of appearances itself; it took the form of both tops and dresses that many will see as hip. This collection was made to be even more casual with the addition of pants worn low on the hip bone, cropped tops, and sneakers. Liang maintained the downtown feel in this outing for which her brand is loved by its audience.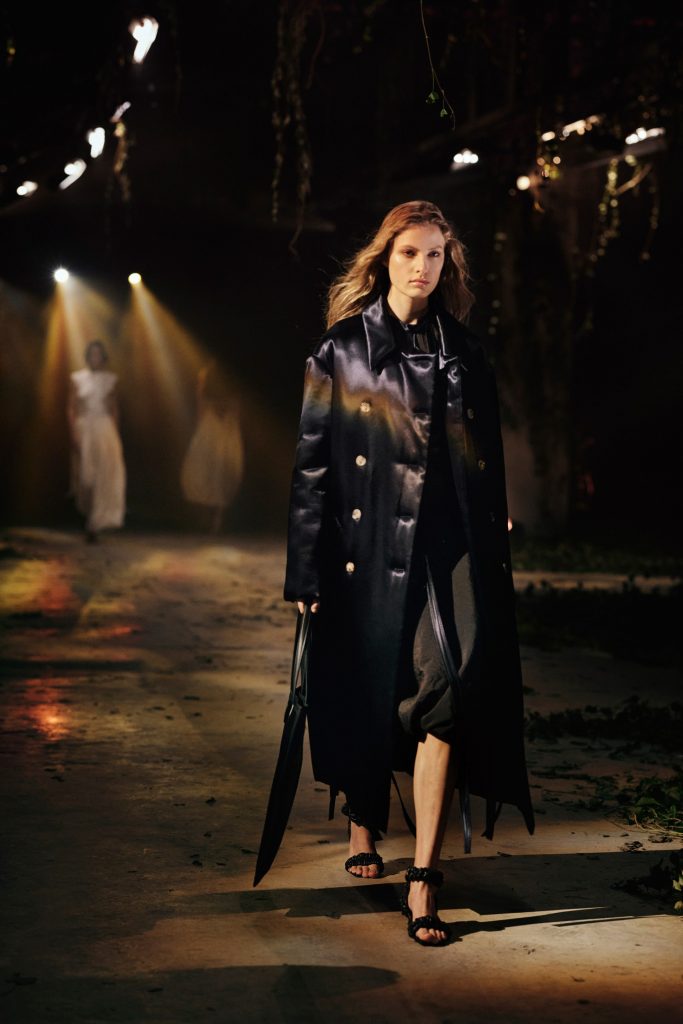 Khaite
Khaite, a rising star on the New York fashion scene, created a Spring/Summer 2022 collection that was tailored to the New York woman. That sounds like what you could probably imagine if you're somewhat familiar with the city: slick outerwear, dresses with shine, and lots of attitude. But wait! That's not all.

A couple of pieces of which to take special notice are the silk ribbon harnesses worn on the upper half of the body and the hobo bags that the models carried down the runway. The harnesses were sewn by hand, which showed because they appeared to be well-crafted. With the fashion world's desire to show off the torso (as evidenced by other shows seen so far this fashion month), these should be an It item come next year.

The hobo bags were astoundingly large. One could probably fit a person inside with very little effort. Or, perhaps, half one's wardrobe. Or a portal to another dimension. All jokes aside, the bags are unique enough that they will command attention when it hits the market.

New Yorkers – and others – of the fashion variety will take a keen liking to what designer Catherine Holstein had to offer.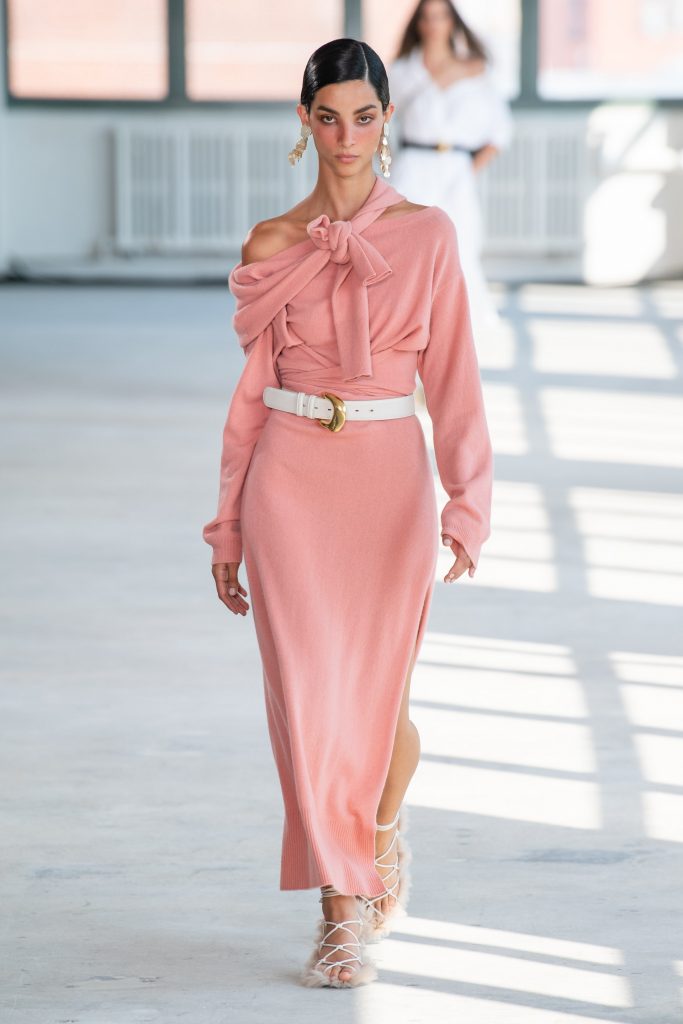 Altuzarra
Joseph Altuzarra's return to New York Fashion Week after showing in Paris for four years was a colorful one. The show led off with tie-dyed dresses and featured elements of crochet throughout before closing the 41-look lineup with an assortment of maxidresses.

Pleats made their way onto a number of pieces, from floral separates to solid knits. The footwear choices were of interest: the coin sandals will add an element of casual glamour to looks for next spring & summer, and the fur-trimmed sandals are an upgrade from the basic strappy sandals that many wear as soon as days begin to stretch in length.

In viewing Altuzarra's Spring/Summer 2022 collection, one is able to recognize a willingness to experiment with the combination of whimsical design with methods of showing off skin that feel novel. We look forward to seeing more of Altuzarra's work be shown in our fashion capital again, and how being back in this environment will influence the brand's design evolution.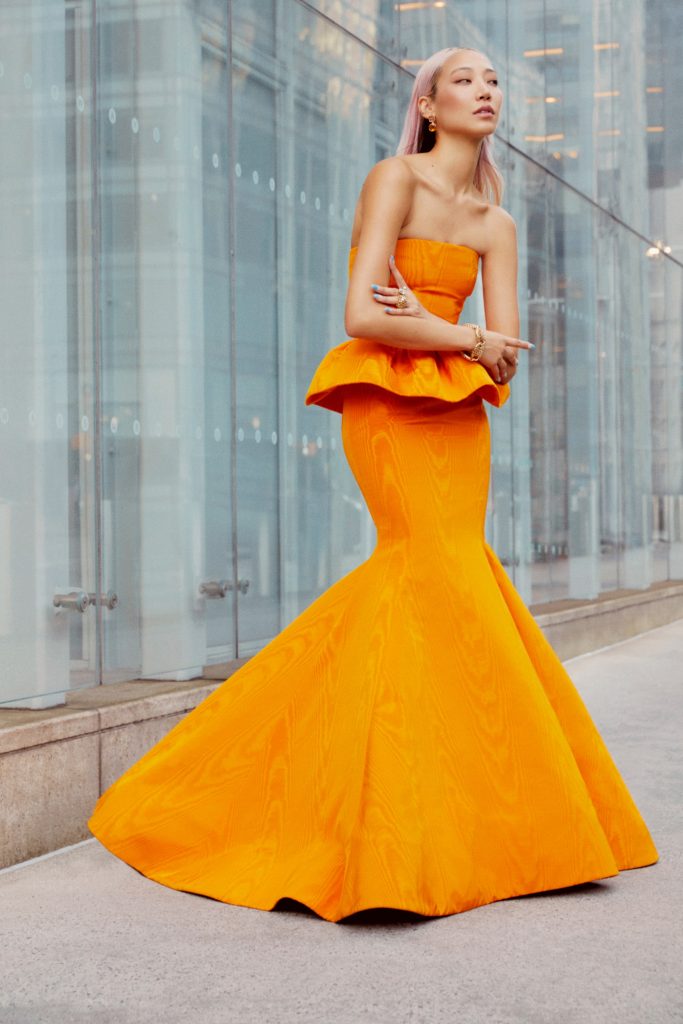 Oscar de la Renta
Oscar de la Renta designers Fernando Garcia and Laura Kim opted to create a video for their Spring/Summer 2022 showing. It featured five well-known models traveling around New York in the collection's pieces to a soundtrack of musician Billie Eilish.

The models did everyday things, from buying a slice of pizza to riding Citi Bikes; combined with the fun clothing and the music, one could feel the energy pulsating from the fashion film. There were plenty of playful printed garments and evening dresses on hand. Each of the prints and patterns was imbued with meaning; for example, a couple of knitted pieces displayed a magnolia leaf that Kim would eat as a child.

The evening dresses contained the type of drama that we've seen from the brand over the years, but they somehow felt new and exciting. In a couple of looks, Garcia and Kim created dresses that replaced feathers with raffia fringe; they were executed very well and would make wonderful event looks.

Overall, this colorful collection felt light and free; we could all use more of both.
To subscribe to Manic Metallic's newsletter, click here. To follow us on Instagram, click here.