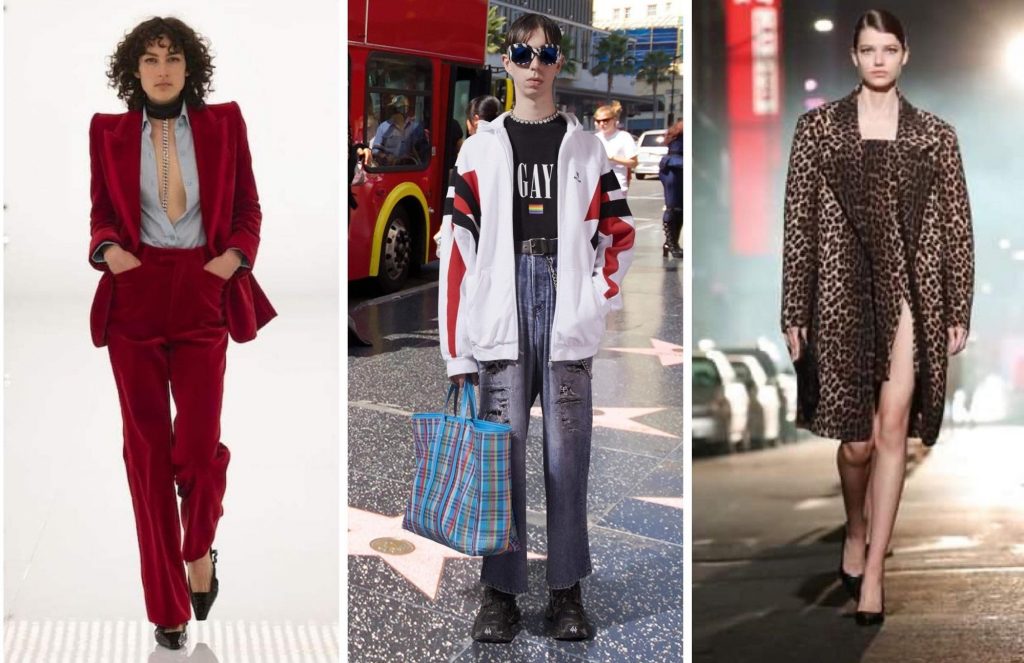 April is not generally known for showing a wellspring of fashion collections. This year, however, many brands decided to show this month independent of their usual fashion calendars. Manic Metallic decided that it would be worth it to take a look at a few of them. Below, you'll find reviews for Alessandro Michele's Fall 2021 Gucci collection, Demna Gvasalia's Pre-Fall 2021 collection, and the Michael Kors Fall 2021 collection. As is usually the case, there were pluses and minuses. Whatever the case, each of these houses – and likewise, each of the designers – has always had a strong viewpoint on what they believe that fashion should represent.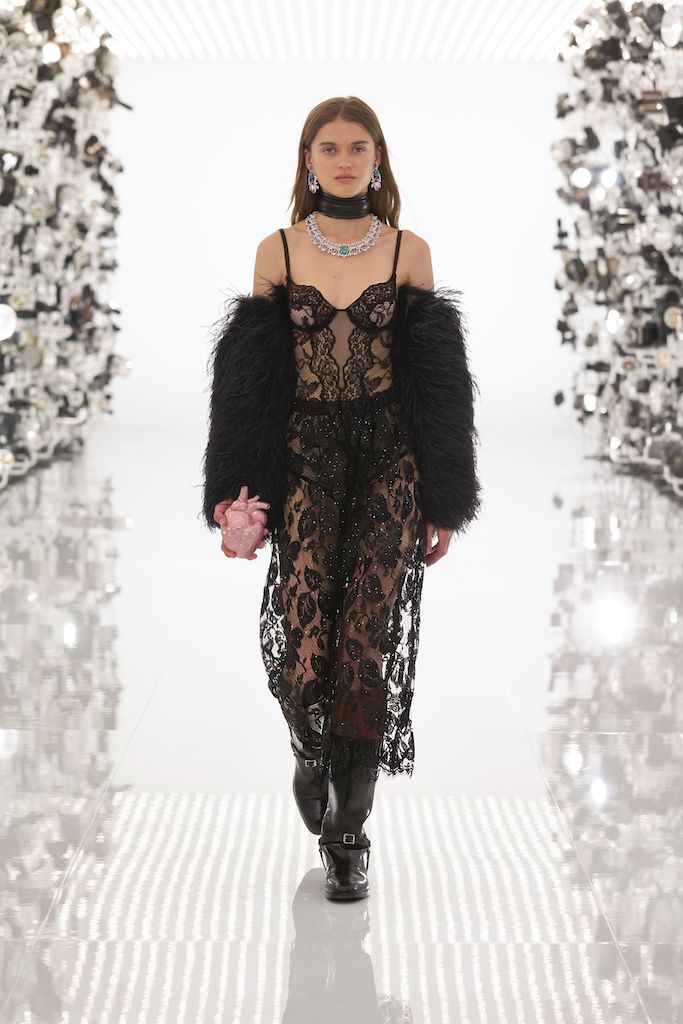 Gucci: Fall 2021
Alessandro Michele's Gucci F/W 2021 collection was certainly a marked departure from his typical busy maximalist offerings. This isn't to say that the collection, which celebrates Gucci's 100th year anniversary, has no excitement; far from it. His exuberance was redirected into clothing that is more amenable to a wider range of people. The collection had a running undercurrent of equestrian inspiration – a nod to the house's past – that showed up in the form of jockey hats and jodhpurs, among other items. It contained a fair amount of colorful suits that, like many other items in the collection sported sharply-tailored shoulders – perhaps a nod to Michele's soft collaboration with Demna Gvasalia of Balenciaga (who is known for his shoulder cuts).

For a collection done by this particular designer, the usage of neutrals was quite common. They fit well alongside the more vivid colorful pieces like the hot pink coat with maribou-feathered sleeves and the velvet suits that were included as an ode to former Gucci designer Tom Ford. There were surprisingly few dresses which, if one goes with the equestrian theme, a dress wouldn't particularly fit the occasion. Of the ones that were present, the high points usually included a beautiful usage of lace, feathers, or sequins.

One area of weakness in the collection is the overuse of the house's brand logo. In small doses, it is remotely acceptable. However, its all-over use (at points) on items such as shoes, blazers, and skirts was nauseating; one wonders what market that Michele was courting with those designs.

Of note with accessories were the dangling nose rings, human heart-shaped clutches, and the aforementioned jockey hats. It is easy to see both the nose rings and clutches becoming runaway successes; it is equally easy to see many a fast-fashion house attempting to create a much lower-quality version of the clutch.

With well over 90 pieces in this collection, Gucci's 100-year anniversary collection was a mixed bag, but it suitably paid tribute to the brand's history while moving it forward into what will hopefully be another century of work.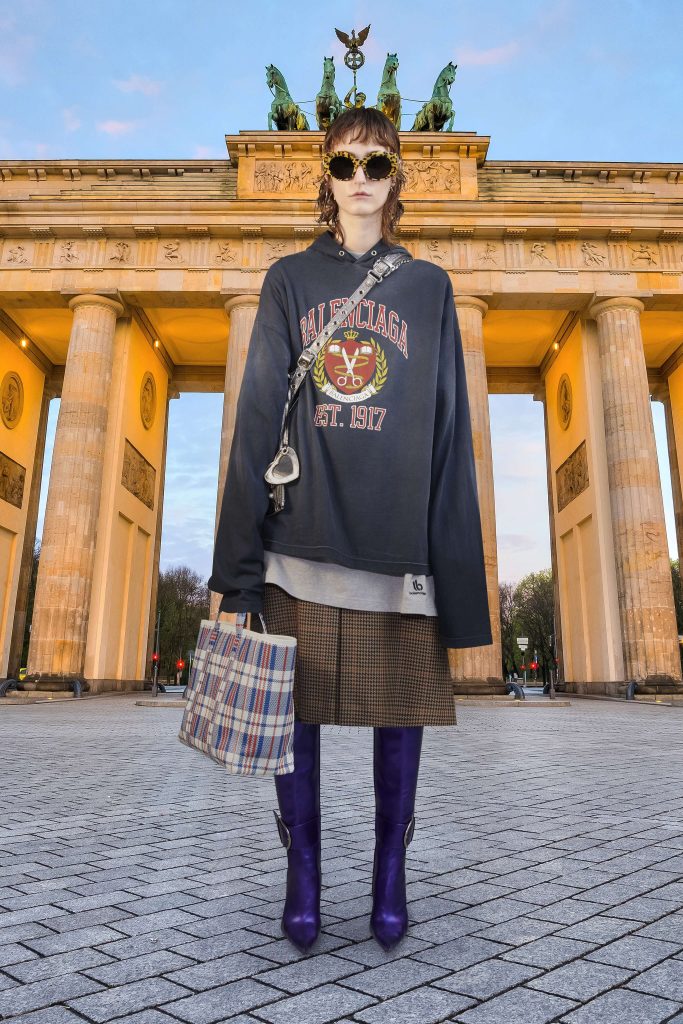 Balenciaga: Pre-Fall 2021
Demna Gvasalia took a different strategy for the creation of his latest collection for Balenciaga: he and his team photographed models in the brand's clothing and photoshopped in backgrounds of different cities in order to inspire travel nostalgia. We've been under travel restrictions for over a year now, so we would do well to dream of other locales.

In terms of the clothing itself, much of it is streetwear and would be a hit with that crowd. That means lots of ripped jeans, baggy pants in general, hoodies, oversized jackets, and the like. The color palette was quite drab, with comparatively few sightings of color (though they did exist). There were a few floral, polka-dot, and aminal print dresses included in the collection, which kept things somewhat interesting.

Where the collection succeeded, though, were the accessories. The bags, shoes, and sunglasses are covetable, and will easily sell. It's also fathomable to see the coats doing well. And Gvasalia is to be lauded for his insistence on using primarily sustainable fabrics in this outing.

However, one wishes that Demna would bring in a bit of, well, beauty to Balenciaga. In catering to the luxury streetwear masses of our current era, he has lost any common ground with this historic house. He clearly has design capabilities, so it would not be too much to ask for him to combine his preference for streetwear with Balenciaga's design lineage.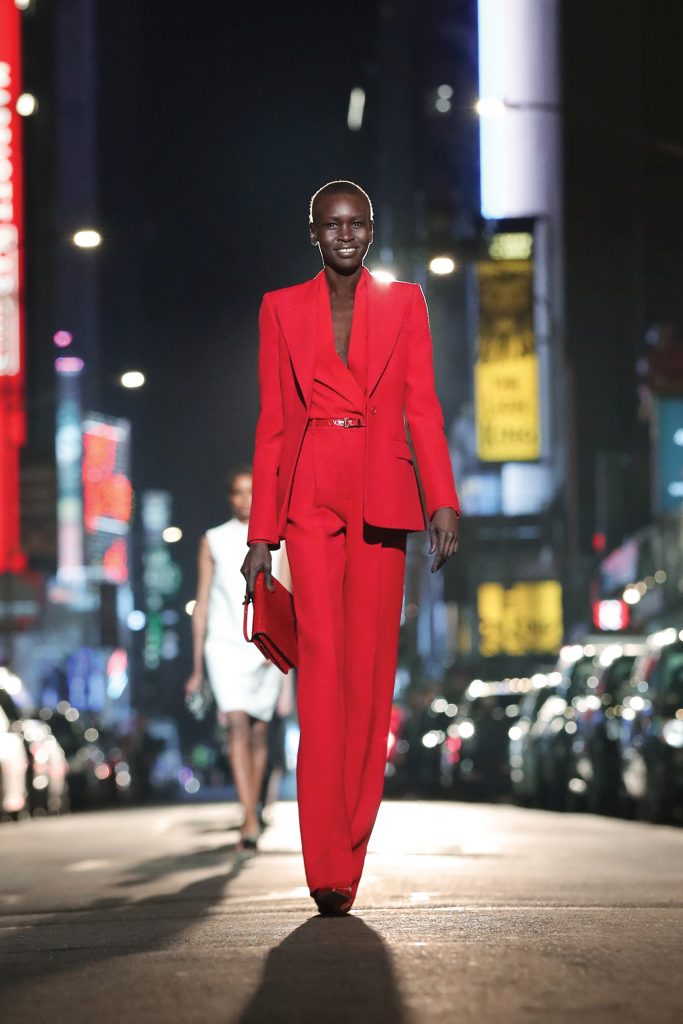 Michael Kors: Fall 2021
Michael Kors celebrated its 40th anniversary with this recent show by briefly opening up Broadway again to have his models walk through the Theater District with the street as their runway. The event, with its supermodel-packed lineup, served to also raise awareness around the need for funding for the Actors Fund – an organization that offers assistance with essential needs to those in both the entertainment and performing arts communities.

The collection was a great celebration of the aesthetic that the Michael Kors brand has stood for over its four decades in existence: classy, sophisticated American sportswear that is always a solid choice for those wanting to look put together with little effort. It was heavy on neutrals with healthy doses of red, gold, and silver throughout.

Multiple patterns turned up, such as herringbone, houndstooth, and Prince of Wales check; animal prints included both zebra and leopard print. These turned up on multiple different items, including skirtsuits and pantsuits – which betrayed that Kors is highly anticipating a return to offices for many workers that have been home for the past year due to the pandemic. Going back might not be something that a lot of employees want to hear, but at least their outfits will be knockouts when they do.

Additionally, Kors featured long, slim-cut sequined dresses along with both puffer coats and faux fur coats. Bare legs showed up frequently, as they typically do in the brand's fall/winter offerings. Michael Kors isn't going to be breaking much new ground with respect to design anytime soon, but he has pioneered certain conventions throughout his fashion career (such as the previously mentioned bare-legs-in-winter scenario).

And one might not particularly be on the cutting edge while wearing the Kors brand – but it's not necessary. You'll still look sleek – cosmopolitan, even. You'll most certainly take over Broadway.
To subscribe to Manic Metallic's newsletter, click here. To follow us on Instagram, click here.