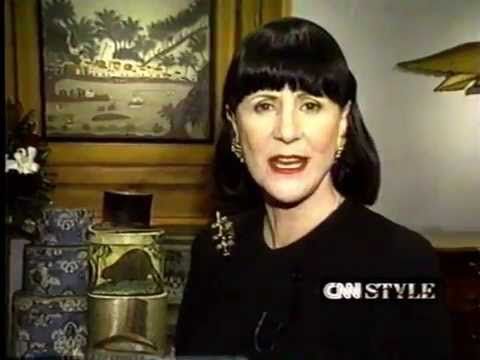 The first installment of our "Who Is….?" series kicks off today with fashion journalist and television host Elsa Klensch.
Elsa Klensch was born on February 21, 1933 in Cooranbong, New South Wales, Australia to parents Hans Aeschbacher and Mary Margaret Aeschbacher. Having originally wanted to be a political journalist owing to a keen interest in power, she studied journalism at Sydney University before beginning her journalism career in 1958 at the Sydney Daily Telegraph.
After a host of other journalistic jobs in various large cities, Elsa met ABC News bureau chief Charles Klensch – the man that would become her husband upon their marriage in 1966. The newlyweds then moved from Hong Kong to New York to settle down.
At least, as settled as Elsa Klensch could be. She was very much an active soul during her long and storied fashion career, working for W, WWD, Harper's Bazaar, and Vogue at various points before beginning her 21-year long stint at CNN as the intrepid host of Style with Elsa Klensch in 1980 during CNN's inception as a company.
Style with Elsa Klensch was the first regularly scheduled US program solely dedicated to the fashion, design, and beauty sectors. The show, which aired five daily segments and a 30-minute show each weekend, saw Elsa frequently traveling to fashion capitals such as Milan and Paris – but also lesser-known fashion capitals such as Moscow and Beijing – to report on their fashion industries. She didn't slow down until the end of her show at the beginning of 2001.
Elsa Klensch received a number of awards and honors throughout her career, including a CFDA Eugenia Sheppard Award for Excellence in Fashion Journalism in 1999 and an FGI Superstar Award in 1996. She also lectured at multiple cultural institutions and even performed a university commencement address in 2001 at FIT.
Elsa's work should be appreciated for many reasons, not the least of which was her dedication to reporting on fashion as a serious industry and not an endless source of gossip and entertainment. After all, as we have mentioned recently, fashion does not exist to be a superficial celebrity circus. We really appreciate her tireless effort to educate the public on fashion while still making it an accessible industry for all.
As a company, we hope that Manic Metallic can follow in that same lineage of excellence.
To dive deeper into the life and career of Elsa Klensch, head over to The Manic Metallic Podcast where we've released our newest episode (our second overall) discussing her in more detail. The podcast is available currently on Spotify, Apple Podcasts, Amazon Music, iHeartRadio, and RadioPublic so far – with more outlets to follow.
To subscribe to Manic Metallic's newsletter, click here. To follow us on Instagram, click here.