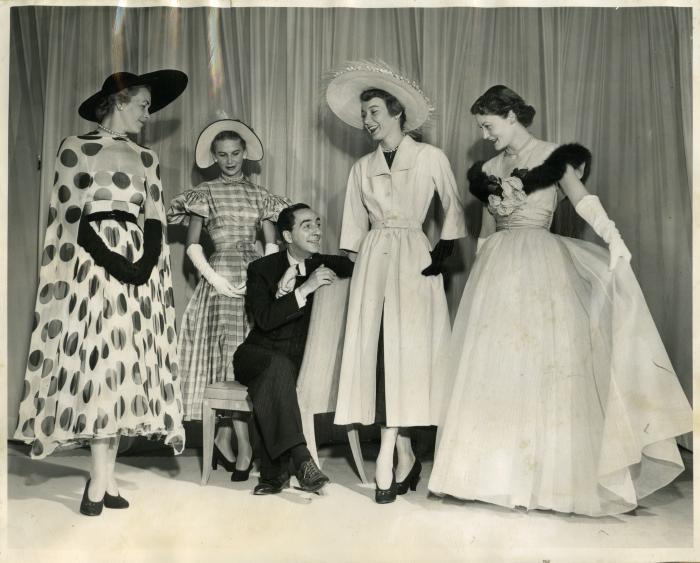 The first installment of our "What Was….?" series begins today with the Coty Awards.
The Coty Awards, short for the Coty American Fashion Critics' Awards, were created in 1942 by Coty, a cosmetics and fragrance company that is still very much alive today, ranking on the Fortune 500. The aim that Coty had with the awards was to enhance the image of American designers and give them a higher level of status and international recognition.
Around the time that the Coty Awards were created, the United States had entered World War II the year before, in 1941. The awards show was also seen as a way to harness patriotism to gain support behind American fashion.
Eleanor Lambert was brought onboard to help to oversee, and lend publicity to, the Coty Awards.
This was how the awards nomination process worked: the fashion press would nominate designers from the sectors of womenswear and menswear. Votes were then cast by fashion editors from across the country.
The awards, known by some people as fashion's Oscars, were very popular awards because shows were these large, fancily-dressed affairs.
The first Winnie award winner was designer Norman Norrell in 1943, and the last Winnie winner was designer Adrienne Vittadini in 1984. 
The Coty Awards began to run into a snag in fashion industry relations in 1979 when Coty the company came out with a cosmetics line titled "The Coty Awards Collection". This led designers to look upon the company with disdain because of what they saw as "overcommercialization". Some designers, like Halston and Calvin Klein, saw it as competition for their own lines, so they refused their awards that year.
After that, it was pretty much a slow death for the Coty Awards. The arrival in 1980 of the CFDA Awards – the CFDA itself has been founded in 1962 by publicist Eleanor Lambert – hastened the Coty Awards' demise.
That reign finally came to an end in 1984 as the last awards were presented; the Coty Awards were officially ended by Donald Flannery, chair of the Coty Awards board, in 1985, after stating that the awards had achieved their purpose.
---
To learn more about the Coty Awards and their impact on fashion, listen to the newest episode of The Manic Metallic Podcast – available on Spotify, Amazon Music, Apple Podcasts, RadioPublic, and iHeartRadio.
To subscribe to Manic Metallic's newsletter, click here. To follow us on Instagram, click here.