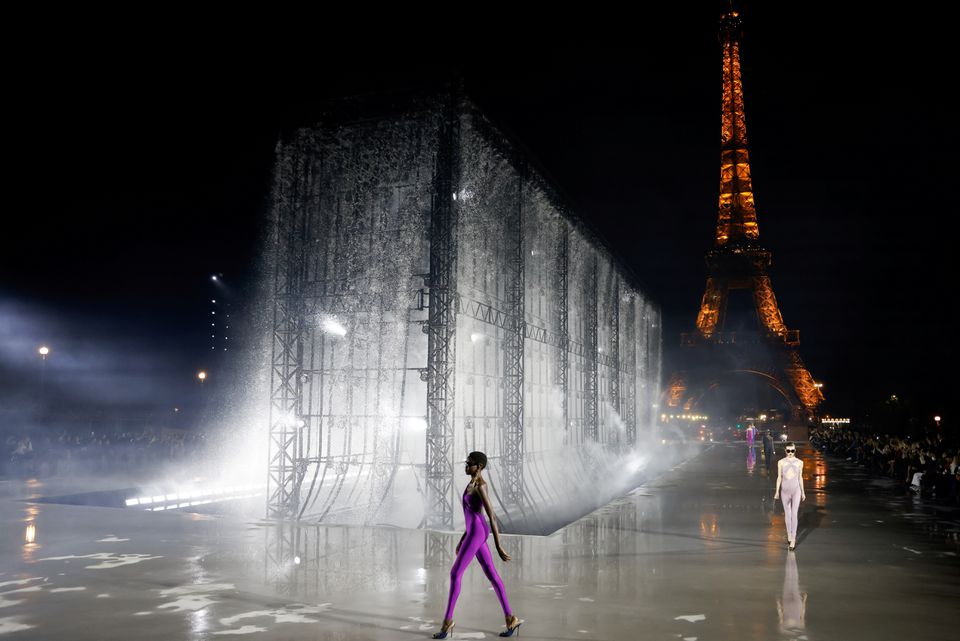 Today begins our coverage of the Paris Fashion Week Spring/Summer 2022 collections. As with New York Fashion Week, our reviews will be limited to a few per PFW date (Sept. 27-Oct. 5) in which we took interest because it is next to impossible to cover every show without shortchanging both the collections and the quality of our work in reviewing them. We will continue to post our reviews to this article as they are completed. Do let us know what you think via any of the means on our Contact page (social media, email, etc.).
September 27, 2021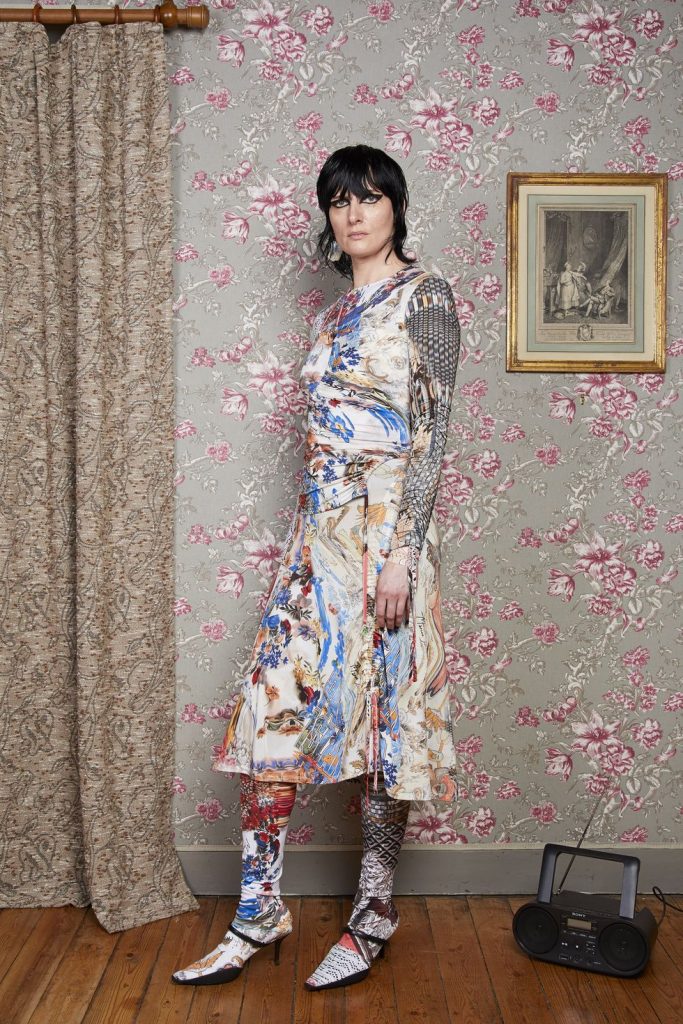 Marine Serre
Marine Serre was motivated with this collection to hang onto the vestiges of the pandemic that spoke to slowing down and living life more carefully and mindfully. In keeping with this way of thinking, she opted to again present a fashion film to display her work. "Ostal 24" – which takes place in a rural setting – follows film subjects over the course of a day while they do normal things: yoga, cooking, and dancing, to name a few. Strange things happen in the film: yoga on top of a car! A blanket covering a car! Guests placing their napkins on their heads and eating black pasta! A woman hung upside down from a harness like a bat!

Despite these curiosities, both the film's atmosphere and the clothing itself succeeded in its mission of prompting the viewer to ponder the merits of slow living. The first 20% of the collection was very print-heavy – almost too much so. Following were full patchwork denim looks in pink and purple tones, with shades of burgundy and hot pink coming after. The next looks turned tablecloths and towels into articles of clothing. The collection closed out with both striped and patchwork garments in blues and greens. It all gave off an ambience of "urban youth descending onto a pastoral location and actually enjoying it". 'City slickers'-meets-'home on the range', if you will. And thank goodness that this didn't take the form of anything resembling "cottagecore", which is well overdone at this point.

Devotees of Marine Serre will be pleased to know that the crescent moon does, indeed, make several appearances (shocker) and – as usual – is woven in cleverly in different locations including coats, tops, and pants. Jackets and pants make use of moire, while popcorn fabric showed up at the beginning of the show in the form of tops and dresses. In terms of accessories, an interesting point at which to look is the utensils being used as jewelry. It seemed kooky, but it was unorthodox enough to work. If you're not pushing the boundaries every so often, after all, are you even a high fashion designer?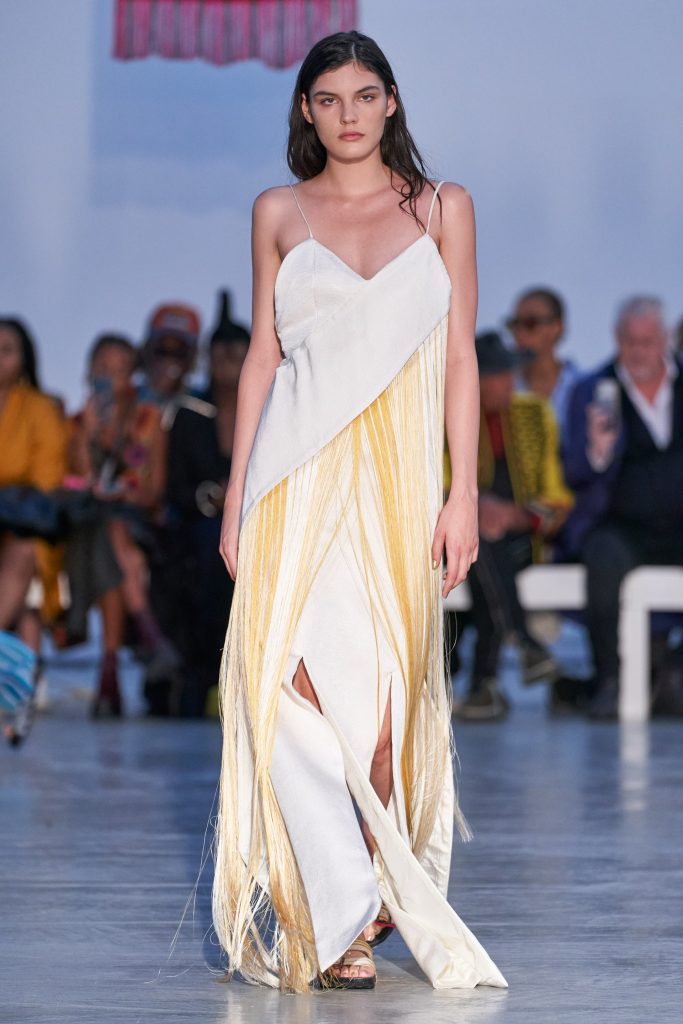 Kenneth Ize
Kenneth Ize sent out a fairly easygoing collection that was high on colors and patterns. This genderless collection had plenty of stripes and plaid to go around, and we must say that it takes a certain level of talent to make concepts that can clash wildly together if not properly done (colors, stripes, plaid) seem wholly nonchalant.

In addition to the above, fringe was featured at many intervals throughout Ize's showing. A couple of those pieces that were standouts were the long hot-pink skirt where fringe lined the upper portion of the piece and the pale-yellow slip dress that came out toward the end of the show which had long fringe sewn diagonally down the dress's length.

Apparently, the white sheath dress with gold brooches was supposed to be bridalwear, but it doesn't appear to hit the "bridal" mark; it was easily mistaken for a typical dress.

Though this was a genderless collection, it was good to see menswear that was vibrant, stylish, and relaxed that was not streetwear, which has been done ad nauseam throughout fashion in recent years. Menswear needs another answer. Perhaps Kenneth Ize can be one of those answers.
September 28, 2021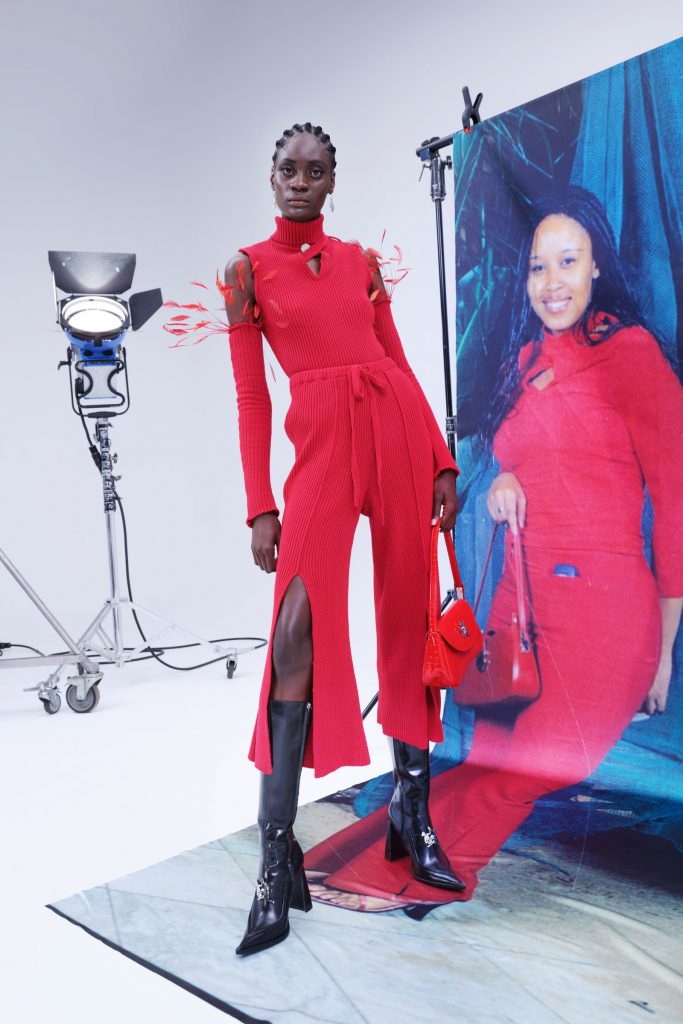 Thebe Magugu
South African designer Thebe Magugu's Spring/Summer 2022 offering was an endearing tribute to his family in a few ways. For one, he opted to do a fashion film (in lieu of a runway presentation) in which he sat in conversation with his mother and his aunt as they all reminisced about the circumstances surrounding certain family photos. These photos – and the family members in them -are the source from which Magugu took inspiration for the collection.

Lively, well-constructed pieces dominated. Shades of red, blue, and purple make their way onto garments such as knit tops, pants, & dresses along with minidresses, pleated skirts, and suits. Two shorts suits – one bright orange and one white – appeared in the second half of the show, lending a polished 'cool' to the showing. Other notable garments were the pieces in which he printed the aforementioned family photos on the clothing; it was a thoughtful touch.

The brand's footwear was varied, showing kitten heels as well as both knee-high and calf-length boots. And the Gele head ties pulled the looks together and created added interest above the shoulders.

Magugu's outing – 24 looks in total – proved that it is entirely unnecessary to have a collection that is thousands of looks long in order to have a great season, as many designers are still doing despite supposed sustainability concerns throughout the industry.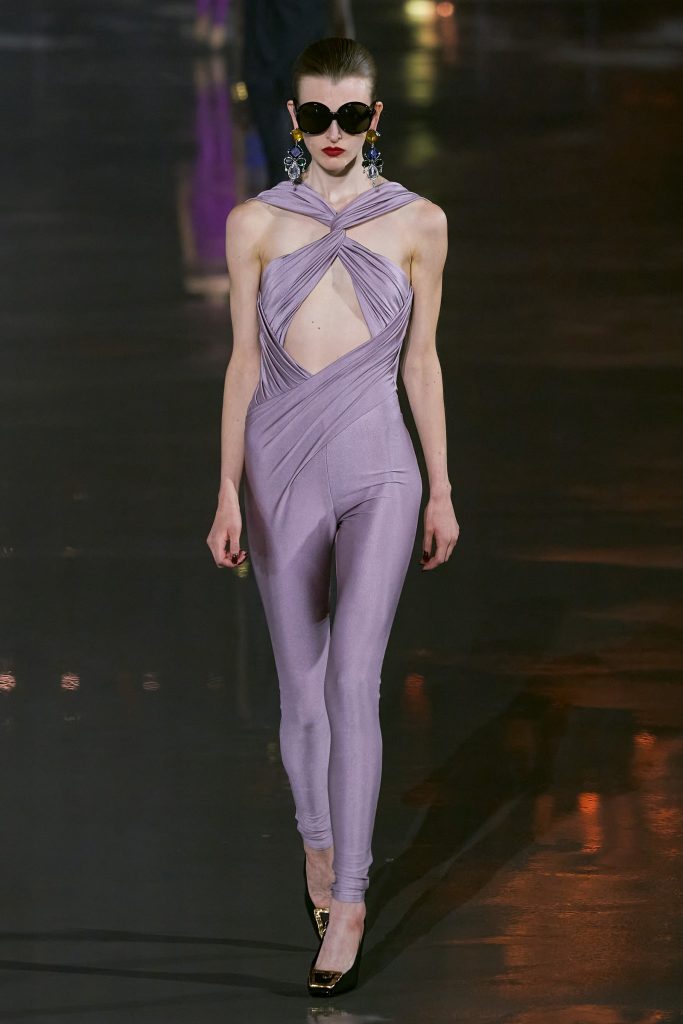 Saint Laurent
Anthony Vaccarello gave the fashion industry – and its observers – a sexy and self-assured collection over which to pine for the next five or so months until Spring 2022. The work, which took inspiration from the personal style of jewelry designer Paloma Picasso, displayed a uniform of slim silhouettes with large shades, red lips, and chunky jewelry. Around one-third of the looks were accessorized with leather gloves in various colors, and florals were common as jumpsuit prints.

The slim garment fits primarily included strong-shouldered dresses & suits and narrow jumpsuits; it was all a tailoring lover's dream. The fabrics were wrapped, folded, coiled, and fitted around the body in ways that delightfully enhanced the wearer's air of sensuality. The cutouts in different sections on the garments' upper portions were another device used to lift up that feeling of uncompromising sex appeal.

This season's Saint Laurent woman embraces being strong, but feminine – and she knows exactly what she wants. But hasn't she always?
September 29, 2021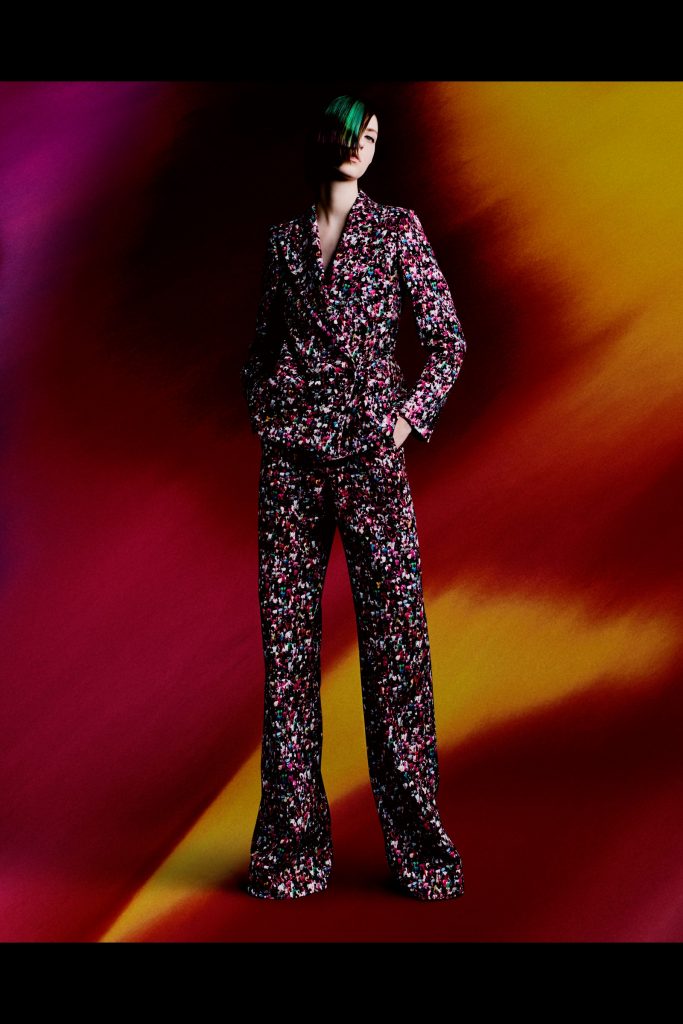 Dries Van Noten
Dries Van Noten chose to do another fashion film to show his Spring/Summer 2022 collection; it seems that he has been enjoying using the medium of film for the expression of his ideas.

What we got on the screen was a rush of colorful, exuberant clothing from a designer that is tired of engaging in the 'comfortable clothing' trend. So, he created designs that are fit for going out with others and having an exciting time together. Many brands this season have stated something along those lines, but this interpretation from Dries was different. The film viewer could feel the emotion and exhilaration radiating outward.

Many garments were joyous multicolored hodgepodges, while others were heavy on fringe. Firework prints added an additional spark to the collection, and other pieces (and faces) were maximum levels of bejeweled. The vivid pinks, greens, and yellows were electrifying. One could easily see these pants, dresses, coats, and skirts out at the next large festival, party, or otherwise celebratory occasion requiring an energetic spirit.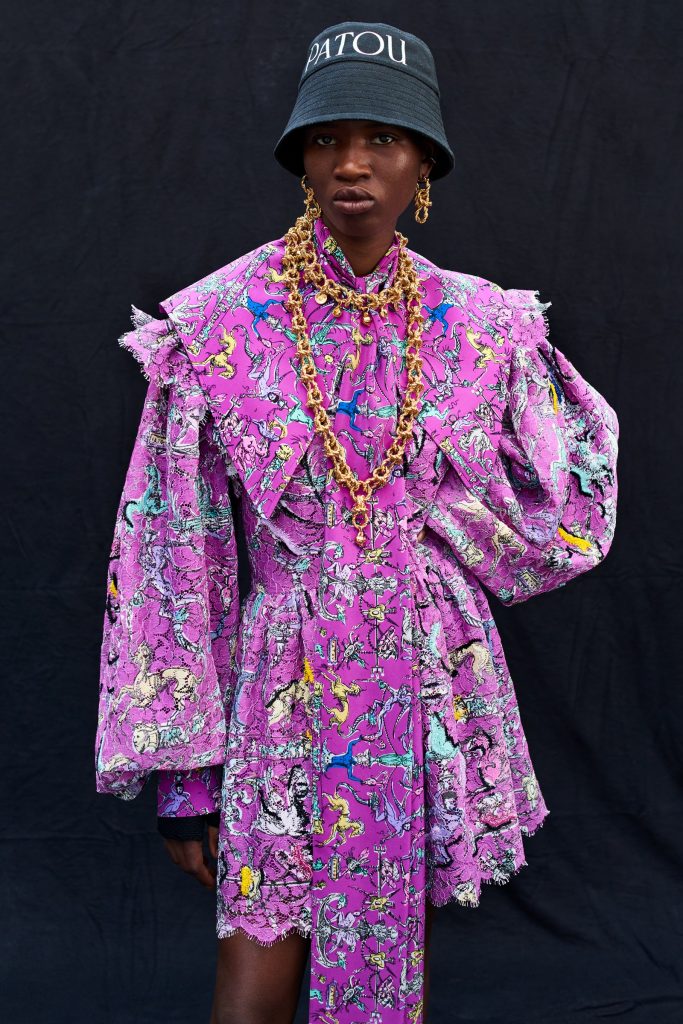 Patou
Guillaume Henry presented clothing that strikes a good balance of being both stylish and wearable while also taking risks with this Patou outing. His designs somehow made very large voluminous sleeves and skirts seem like a normal walk in the park, for example. Henry also offered a take on the Edwardian-era pie-crust collar to which he added a long ribbon on each design containing the collar. Again, it somehow appeared casual.

Bucket hats, visors, and bags with the Patou brand name emblazoned across them were prominent throughout the collection. Slingback heels with rolled-down socks were the footwear look du jour, and long fringe earrings were common. The inclusion of wicker in the form of bucket bags and visors added a natural feel to the looks.

Also worth noting are the lace-trimmed sleeves, which gave the outfits that featured them even more of a special feel. The prints seen on shirts, dresses, and accessories were another point in the collection that was executed well. This showing by Patou would equally suit fashion aficionados and casual watchers.
To subscribe to Manic Metallic's newsletter, click here. To follow us on Instagram, click here.