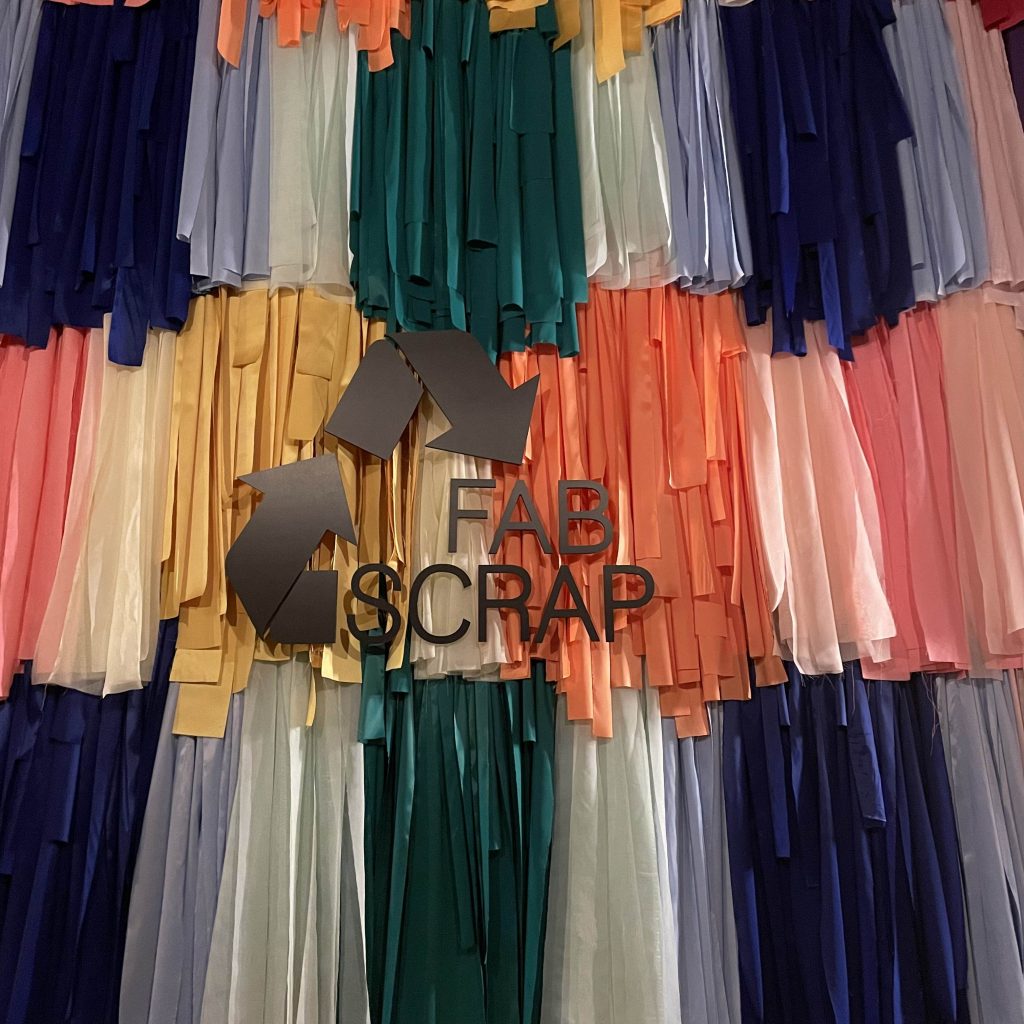 Manic Metallic was invited to attend the launch party on November 10, 2021 for FABSCRAP's new Philadelphia location at the Bok Building in the city's southern section. I, as the company's founder and creative principal, attended with my fiancé Benjamin, who handles a portion of Manic Metallic's design, graphics, and photography work. For more on FABSCRAP's story and mission, visit our sustainability spotlight post on Instagram.

The event was broken down into two portions, with the first being an opportunity for Philadelphia press members and creatives that were invited to view the FABSCRAP space for the first time; the second portion was the launch party itself. Before entering, guests were required to both show proof of vaccination and wear a mask (at least, as long as they were partaking in the inside proceedings). Upon heading up the elevator to the sixth floor, attendees were greeted with a large fabric entryway wall created by co-founder Camille Tagle using company fabric (pictured above). The space's entrance stood to the left, and the checkout counter was situated just inside the door for shoppers to purchase their fabric finds.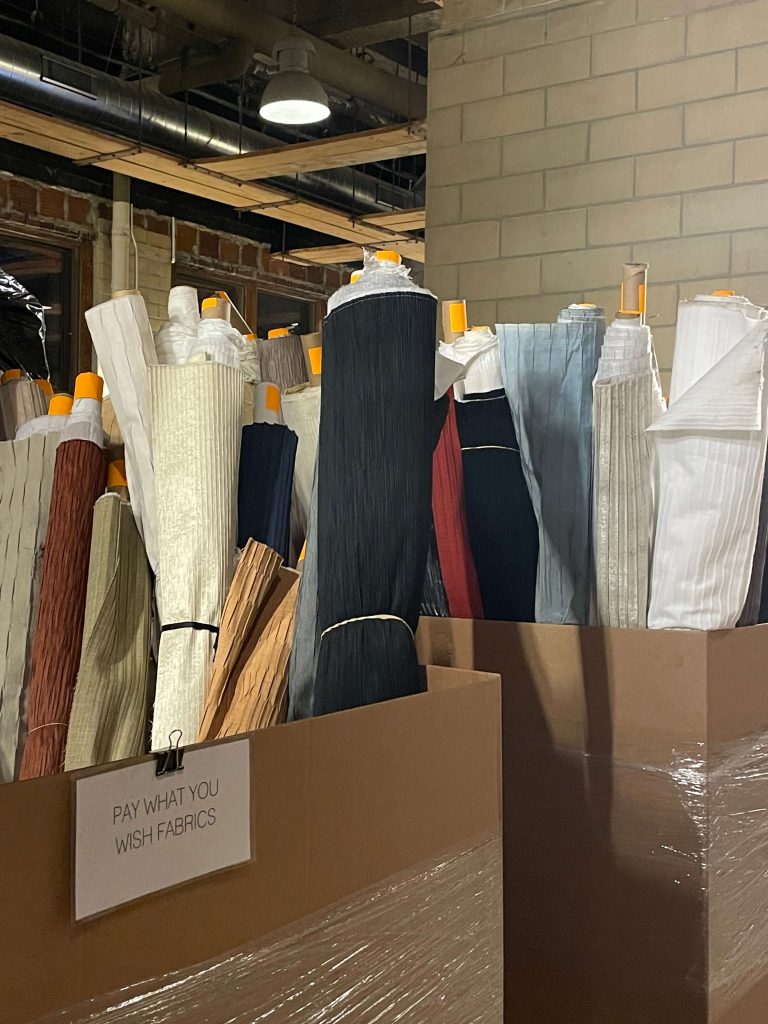 Moving further in – on the register side – were substantially-sized boxes that held 'pay what you wish' fabrics and, next to them, similarly-sized boxes containing a seemingly endless amount of what I presume were yet-to-be-sorted recycled fabric donations in multiple overstuffed bags. The sight of these bags is no surprise from a company that has worked with 570 different clients over a five-year span to save almost 1 million pounds of textiles from going to the landfill; it means that they're doing their job quite well.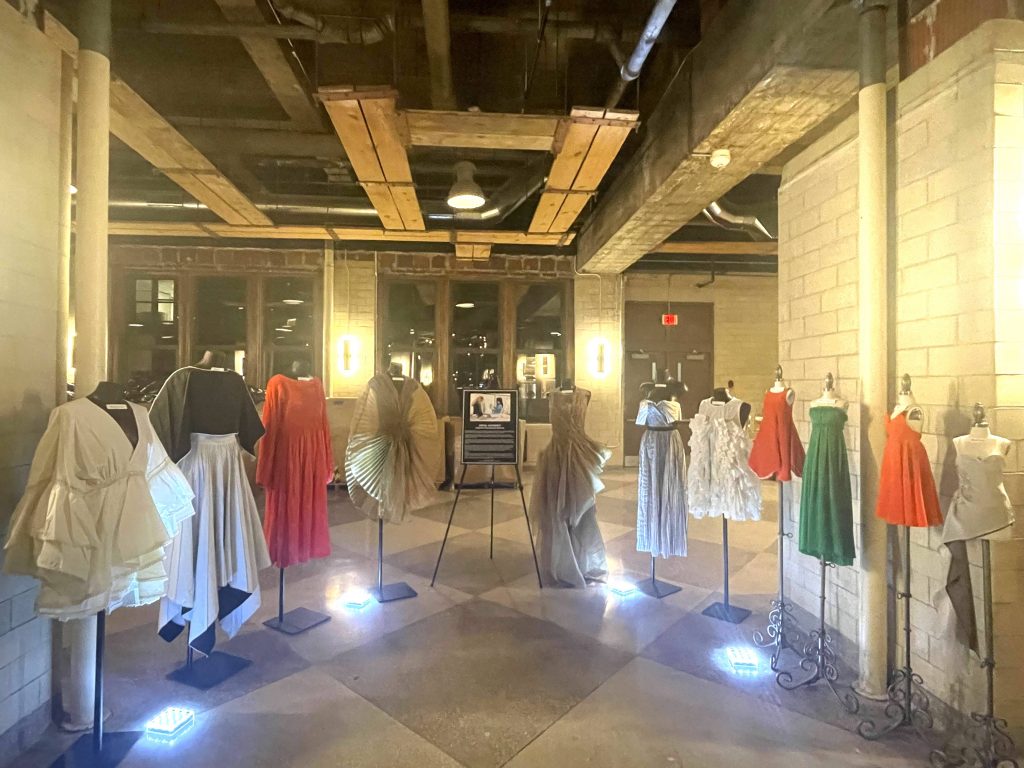 Next up was a display featuring several ensembles from students in Drexel University's Fashion Design program. Drexel, located in West Philadelphia, has partnered with FABSCRAP as its primary source for zero-waste materials. In working with FABSCRAP, Drexel is now able to more fully fuse sustainable practices into its curriculum. If those of us in the fashion industry are honest with ourselves, we know that this industry has a disastrous track record of weaving sustainable practices into its everyday workflow. In speaking with co-founder Jessica Schreiber, FABSCRAP understands the crucial importance of providing the next generation of designers with the proper tools to build a broader wealth of knowledge in order to create a safer and more just fashion industry. Partnerships with institutions such as Drexel do just that.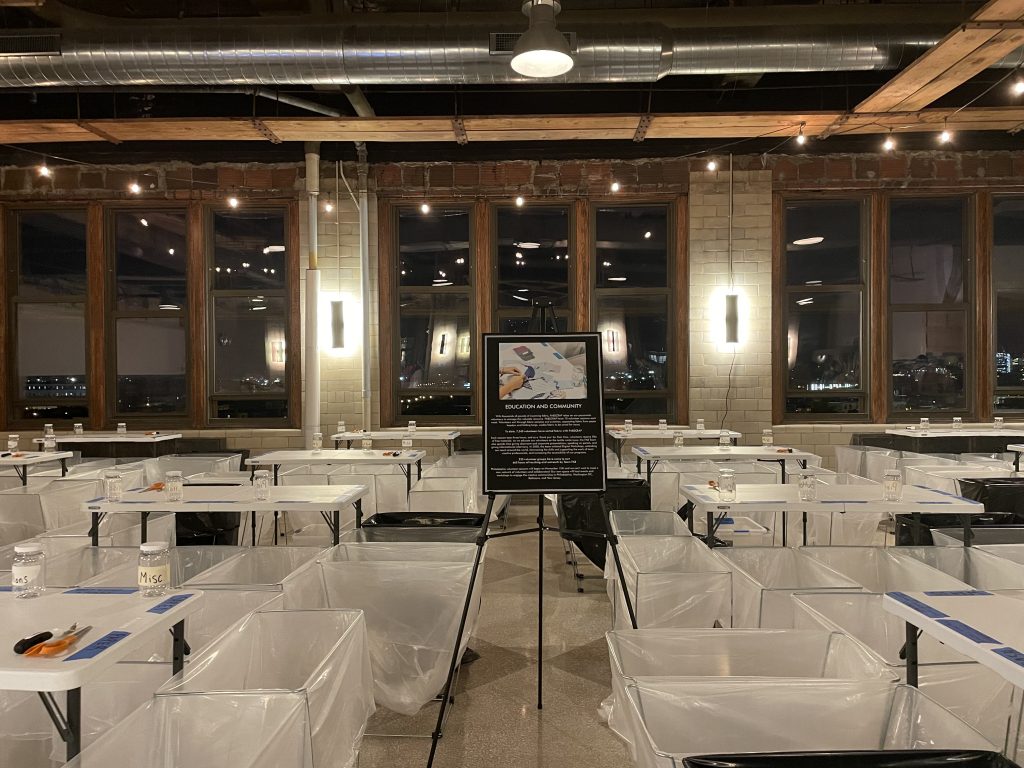 Across from the above-mentioned exhibit was a section dedicated to stations that appeared to be for volunteers completing sorting activities. A typical volunteer session with FABSCRAP lasts 3 hours, after which volunteers are given 5lbs of fabric and other materials for free. 7,343 total volunteers have all agreed that this is a great deal; we think so, as well.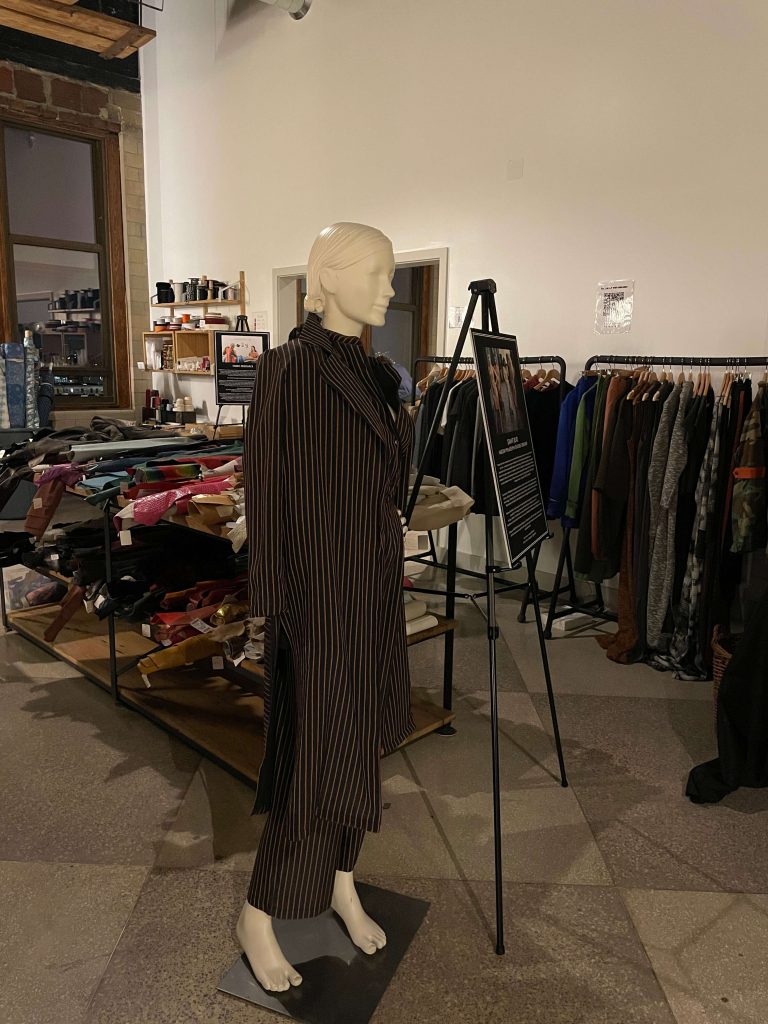 The final corner was fairly jam-packed with different segments. FABSCRAP's first Featured Designer from Philadelphia – Grant Blvd – was placed here. Grant Blvd founder Kimberly McGlonn creates sustainably-sourced fashion while using the brand's platform to support those that have been historically marginalized via a process that she calls "intersectional design". McGlonn makes ample use of deadstock fabrics, reimagined textiles, and scrap fabrics. Founded in 2017, Grant Blvd has garnered press in outlets such as WWD, USA Today, and Fast Company, among others.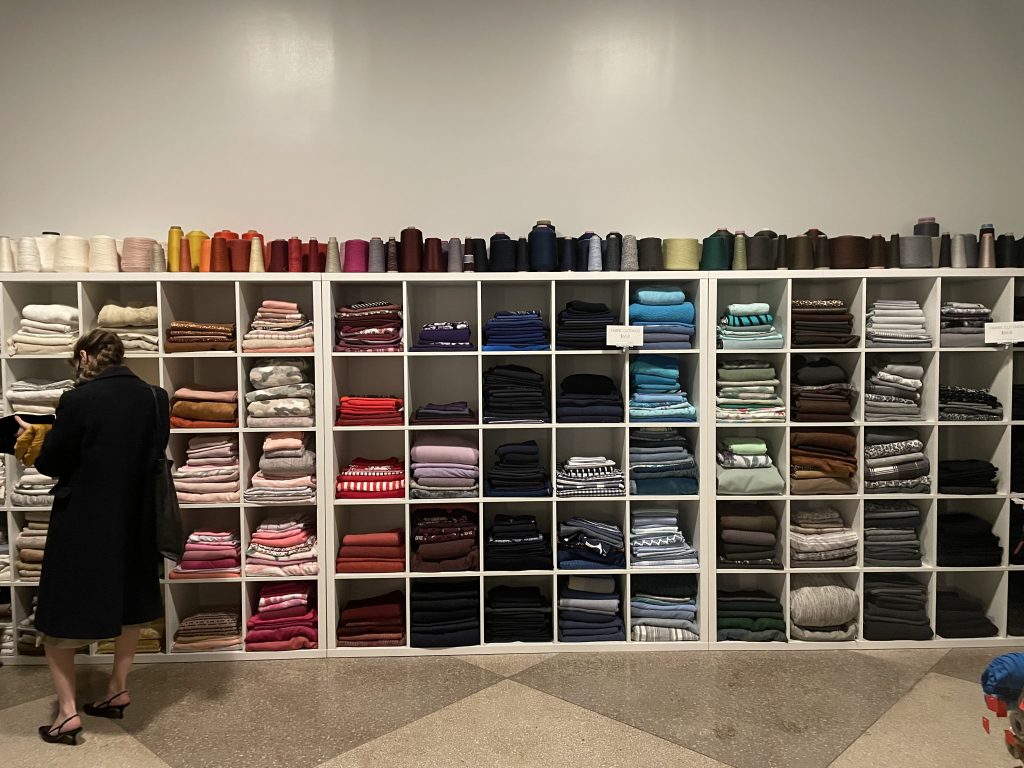 Also included in the final corner was a rack titled 'Mendables' (garments that have slight flaws that can be bought for $5/lb), a shelf/table combo with numerous types of buttons and trims, and an entire back room with shelves of neatly folded color-coded fabrics, bins filled to the top with fabric (also color-coded), and rolls of fabric on a four-tiered shelf. The amount of material that FABSCRAP has on offer is a tad bewildering – but in a "thank goodness that this somewhat scary amount of fabric will be put to good use and not sent to a landfill" sort of way.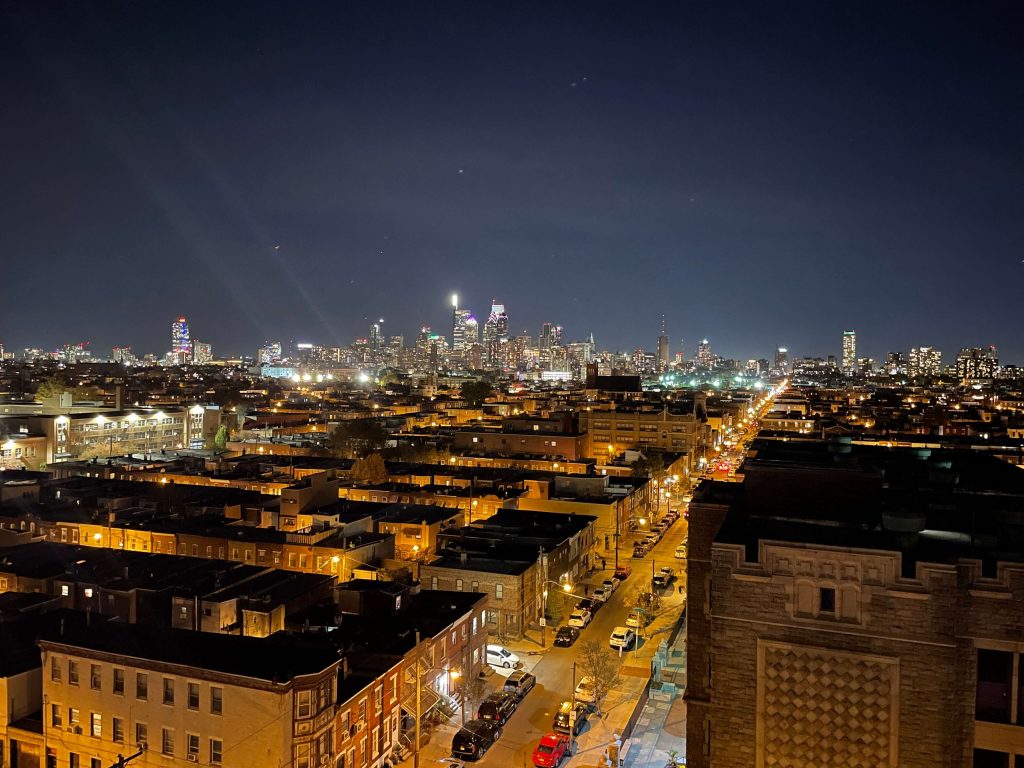 Now, for the party. It was held on the roof of the Bok Building (and as such, masks were not required), which gave attendees access to what is inarguably the best view in the city.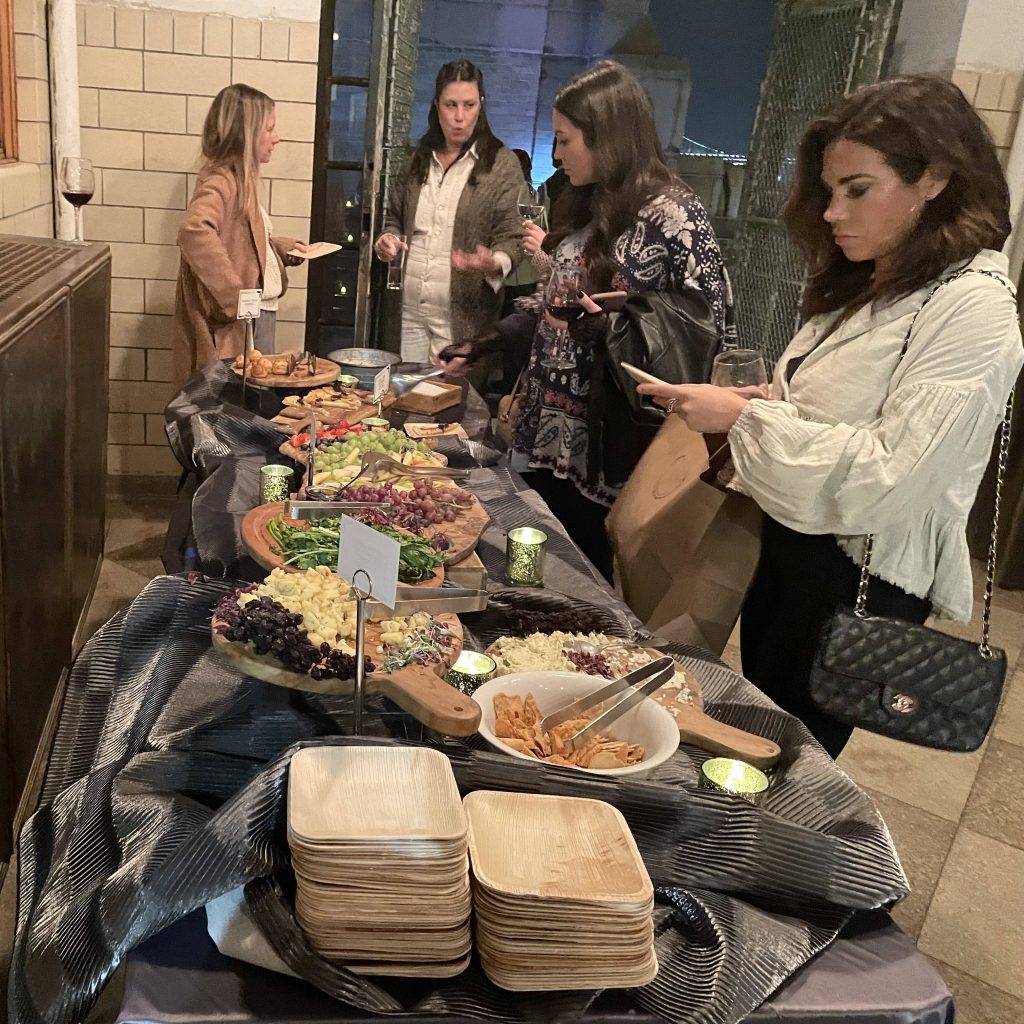 Inside the area situated just before stepping onto the roof were two food stations stocked with hors d'oeuvres and a section staffed by FABSCRAP partner Made Institute (pictured above) – an independent fashion school started in 2012 by founder Rachel Ford that provides education and mentoring that is more accessible than the typical fashion school. Made Institute artists created fashion sketches for attendees using FABSCRAP fabrics, and they turned out beautifully.

Outside was a bar serving drinks to the guests. One of the more popular drinks of the night was a pomegranate prosecco; judging by the amount that we saw floating around, it was very much a crowd-pleaser. The dress code for the night was 'Scrappy Chic', which included thrifted apparel, both upcycled and mended garments, and anything homemade. The crowd stuck to that and were creatively dressed, for the most part. With an energetic music choice, the event was three hours of both education and fun entertainment – and we were thrilled to have been invited by FABSCRAP. The organization will surely be a valued and much-needed part of the Philadelphia fashion & creative community.

Following is a short slideshow of a few crowd shots from the rooftop (all photos © Manic Metallic 2021):
This event was sponsored by both URBN and Nordstrom. It was held on Wednesday, November 10, 2021 at the Bok Building, located at 1901 South 9th St, Philadelphia, PA 19148.

FABSCRAP will be open to the general public on Monday, November 15, 2021, with regular hours being Monday-Friday from 9am-5pm. The company will be closed on weekends.
To subscribe to Manic Metallic's newsletter, click here. To follow us on Instagram, click here.