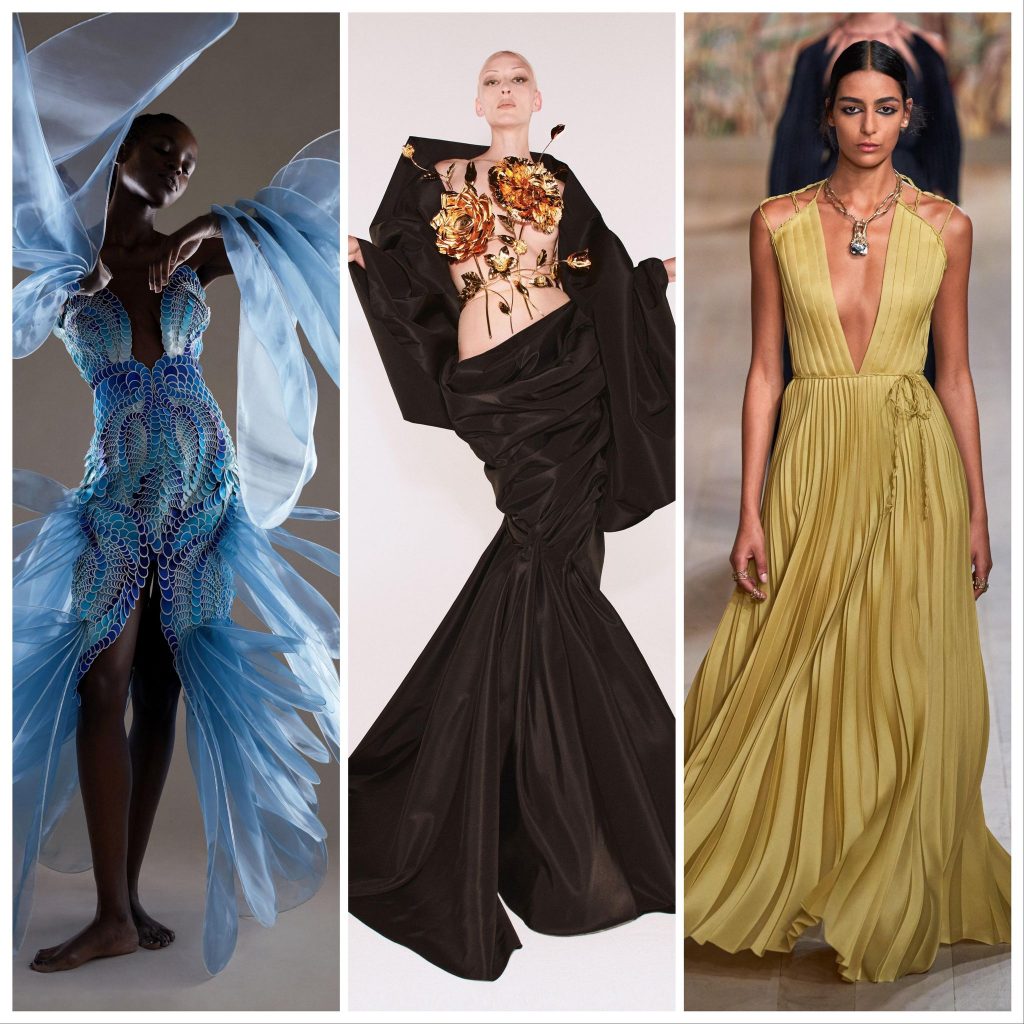 Paris Haute Couture Week (July 5th-8th) is being considered by many in the industry as a return to in-person shows. There are still some designers that are opting to do fashion films again, but that is to be expected. Though the pandemic is receding in some countries, it is still very much alive in many parts of the world. Whatever collection format that designers opted for, Manic Metallic is reviewing select shows below. We will be updating this page with our reviews as they become available.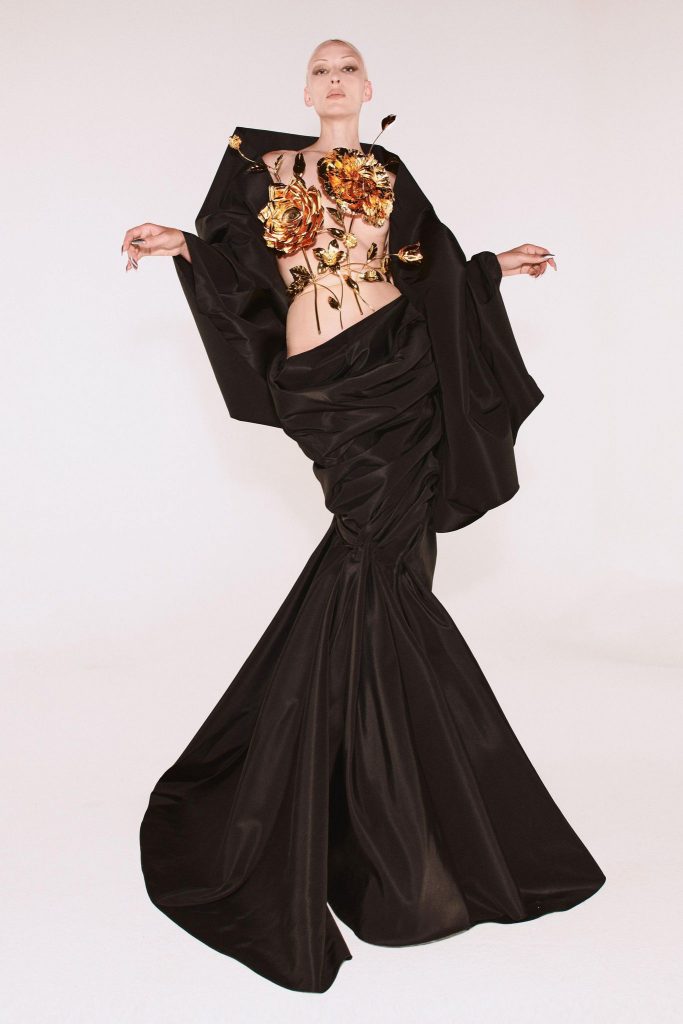 Schiaparelli
Daniel Roseberry's theme for the Fall/Winter 2021-22 Schiaparelli couture collection was "Matador Couture", but he wasn't terribly literal with that interpretation. Surrealism featured heavily, of little surprise to anyone that has taken a passing glance at Elsa Schiaparelli's (the historic fashion house's Grande Dame) attachment to the 20th century art movement and its leading figures. It showed up, for example, in the form of oversized eye earrings and as embroidery on various garments.

Speaking of eyes, Roseberry seems to have a real fascination with human anatomy. Who can forget the elongated gold nails or the 'abs dress' from last season's couture? This season, he decided to display that interest via a gold necklace that appeared to allude to arteries in the lungs, heels with large black bows and gold metal toes (only, they were actual toe replicas), and both gold lip-shaped bags & 'ear' earrings. His accessories are proving to be favorites with each passing collection.

A couple of standouts were the chandelier jacket that was made from crystals dating back to the 1930s and the dress with gold roses covering the torso area. Roses did, in fact, show up a few times in the collection – both as ways to accentuate the breasts and otherwise. The native Texan has shown repeatedly that he is masterful at both the slimmest of tailoring and the most voluminous of design, as evidenced in his oversized sleeves and in his sharply tailored blazers.

One could be forgiven for thinking that some of his work (particularly the accessories) might be created for the benefit of social media attention due to their dramatic nature, but that would be a gross miscalculation. Daniel Roseberry's work garners attention on the merits of its strength. He is creating pieces that currently contribute to the artistic integrity of fashion and will stand the test of time.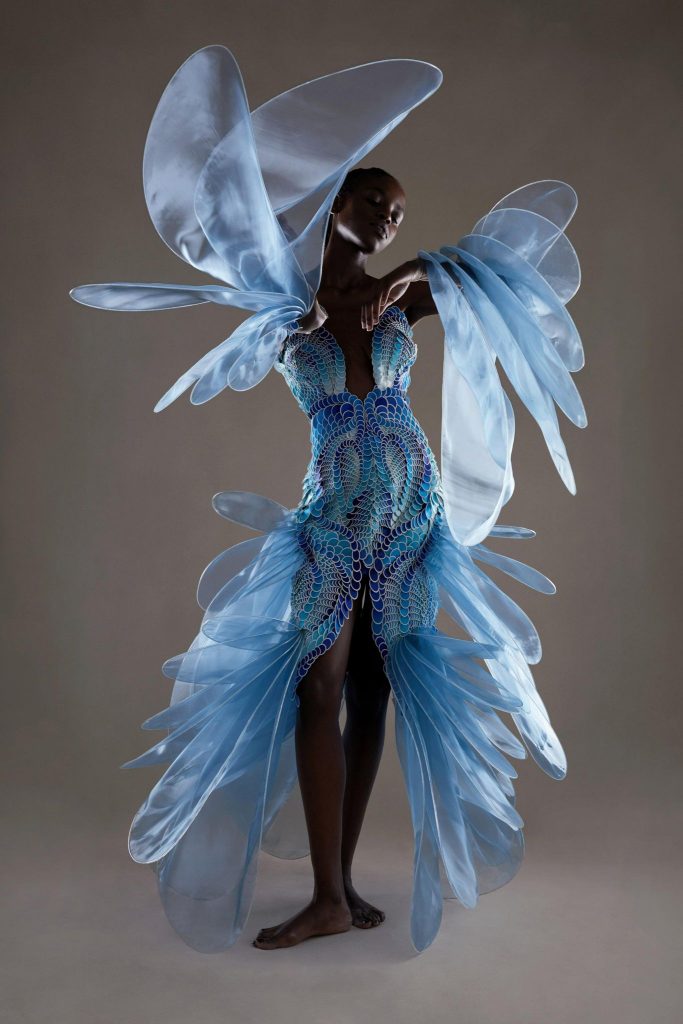 Iris Van Herpen
Iris Van Herpen frequently collaborates with others from varying disciplines to achieve her desired results for her creations. For her Fall/Winter 2021-22 Haute Couture collection titled "Earthrise", she collaborated with professional skydiver Domitille Kiger – who skydived in a dress made specifically for her by Van Herpen and her team. That alone has proven something about the evolution of Iris's work over the past few collections: it is continually gaining more and more movability. Earlier in her career, this isn't something that was necessarily the case with what she produced. Though always having been innovative, compelling, and artistically gifted, there were certainly pieces of hers more aligned with existing in a museum rather than on the human form.

An underlying theme, according to the Dutch designer, was to surpass one's own boundaries. The boundaries of her atelier were pushed when attempting to create a dress that wouldn't unravel when skydiving. And she consistently pushes boundaries by merging fashion, technology, art, and the sciences into one. By challenging her own boundaries, she pushes those of the fashion industry (which, truthfully, we could use more of those in this field).

Now, it wouldn't be an Iris Van Herpen show without the element of sculptural dressmaking that we're all used to from her by now. Many of them were made using blues that echo the rich colors of the ocean, and there's a dress length for everyone. Despite these structured designs, however, the flow and curves of these garments show a reverence for the feminine form and its place in maintaining the natural environment. Nature and cognizance of its importance is inseparable from Van Herpen's design DNA, and in an era of increased climate emergencies, that DNA needs to be embedded more in the broader industry.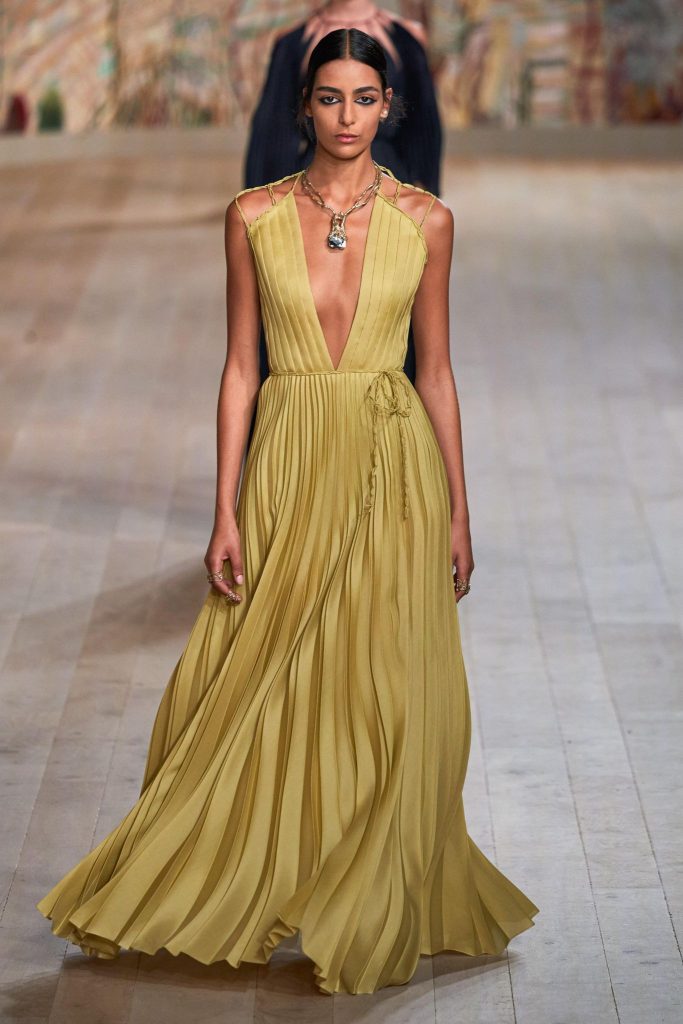 Dior
For Fall/Winter 2021-22 Haute Couture for Dior, Maria Grazia Chiuri took to the use of tweed, and results were mixed. First, no one needs this much tweed in their lives or wardrobes. Ever. Many of the tweed looks came across as frumpy, as did the prints displayed on the runway. The tweed boots, however, are desirable and should prove popular.

The greatest potential that the collection had was in the long, diaphanous dresses – through which Chiuri's love for Greek culture could be seen. The manner in which the fabric was weaved along the bust was beautiful, and it would have been good for the Dior team to keep that same level of precision for the entire show. As it is, even those garments took on a disheveled quality in many cases. And the primarily muted color palette (the fact that this is a fall show notwithstanding) was dull and lifeless.

Overall, this collection is a misfire. That is not to say that the complete collection was a disaster; some pieces were okay. But, with an esteemed house like Dior, the output cannot and should not be simply average. We are coming out of a pandemic, and the world wants excitement and joy, not a drab march of uninspiring work. No one wants Maria Grazia Chiuri to fail; as the first female head of Dior, we all, in fact, want her to succeed. However, her work needs a marked improvement.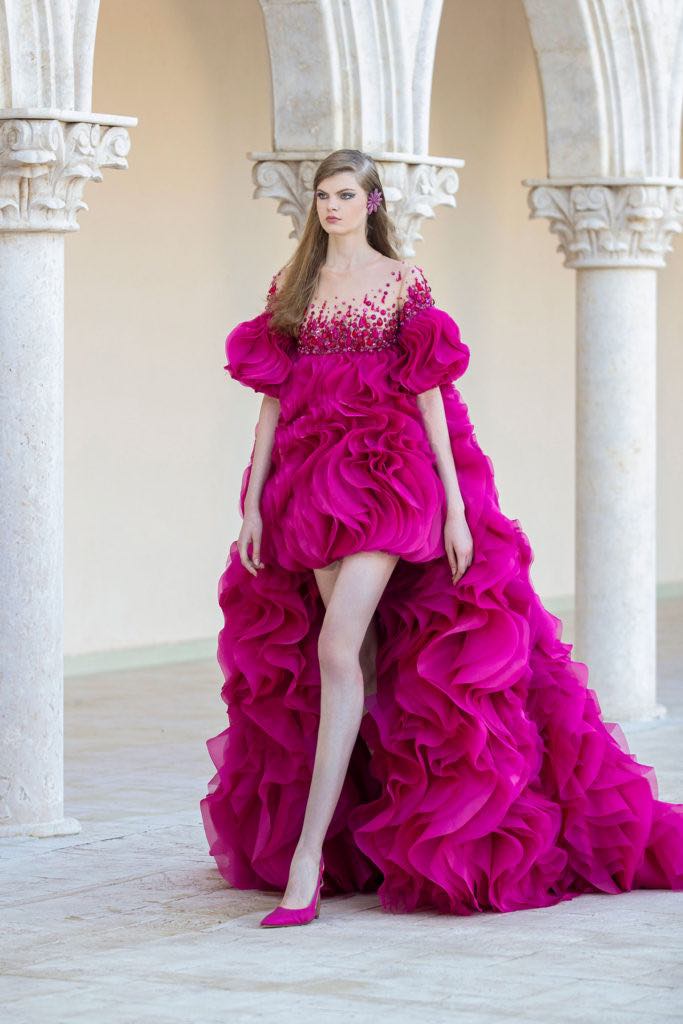 Georges Hobeika
Georges Hobeika's show was one of the highlights of Day 1 of Paris Haute Couture Week. His designs were elegant, but modern. One thing that easily stood out was that he dared to go with bright and colorful shades for a show that was meant to be for fall and winter offerings. It was a gamble that paid off. The blues, reds, yellows, and pinks were intensely uplifting. It begs the question: who ever told us that we could not engage in color after September? This is an outdated standard that needs to disappear.

Hobeika, a Lebanese designer with a Beirut atelier and a Paris showroom, took inspiration from the 1960s, but there were no tired tropes of flower power and hippies included in this showing. What was included were garments that celebrated womens' legs: minidresses and high slits reigned supreme. For embellishment, the designer included crystals and feathers that were so intricately sewn in that one wonders how he is not higher above the radar than he is at present.

What was most appreciated about this collection is that there was not an ill-fitting piece in sight. There are so many designers and design houses that are elevated these days in the eyes of onlookers that have much less talent and that trade off of history that happened decades ago. Georges Hobeika's dresses intend to make a strong statement when the wearer enters a room. This outing is worlds above what certain couture houses have been putting out recently.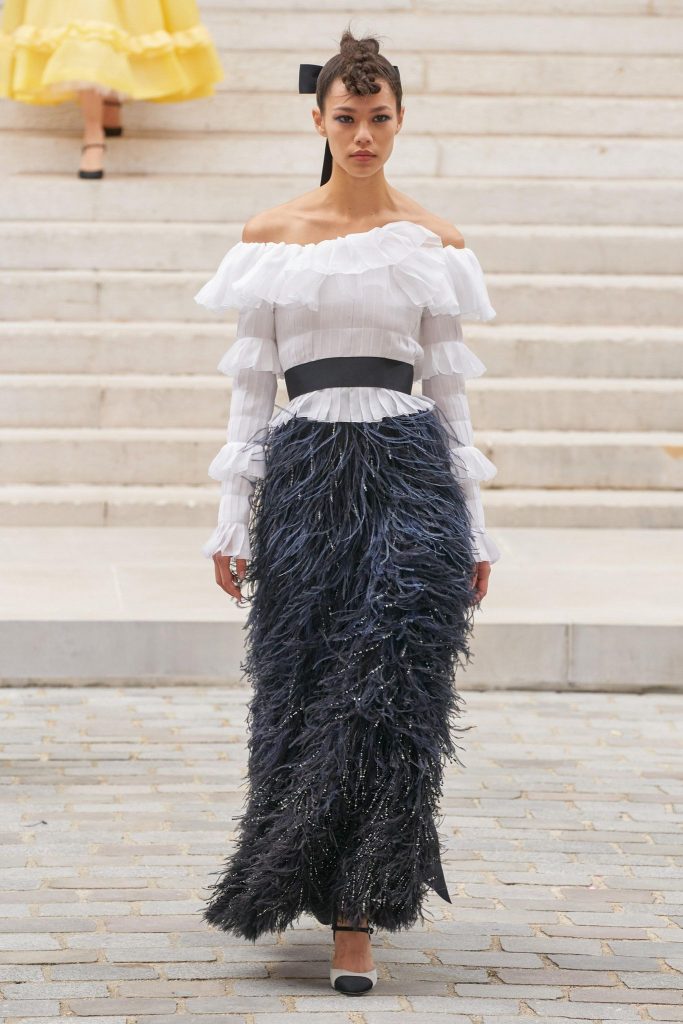 Chanel
There is not a lot that is notable about this Fall/Winter 2021-22 couture collection by Virginie Viard. The designer chose to play with different tweed colors, but this is like saying that the sun is hot given that we are discussing Chanel. Most of the garments are not particularly well-fitted, save for looks 31-34, which are some of the better garments that Viard has ever created. Those four (one of which is shown above) are simple, but chic – everything that we think of as traditionally Chanel.

Why are there so many overall issues with garment fit here? And why does Chanel still seem to be in the process of reclaiming its footing a few years after Karl Lagerfeld's death? Presumably, Virginie Viard was entrusted with the reins at the storied fashion house because of her 30+ year working relationship with the eccentric creative director. And while no one expects her to be another Karl, she is certainly expected to produce a higher standard of work than is being released at present.

We can tell that she has a vision for Chanel, but has anyone quite put their finger on it? She should be lauded for looking to chart her own course independent of Lagerfeld's design vision, but what exactly is the course?

Perhaps the house could start with nixing the current runway stylist, whoever that is. A designer's garments should be displayed in the best possible light when shown to the public. Viard's designs are most definitely not shown well. But, who knows? Maybe it really is the design of these pieces that isn't great. Maybe the design and styling are both off-kilter. Whatever the case, something needs to change here.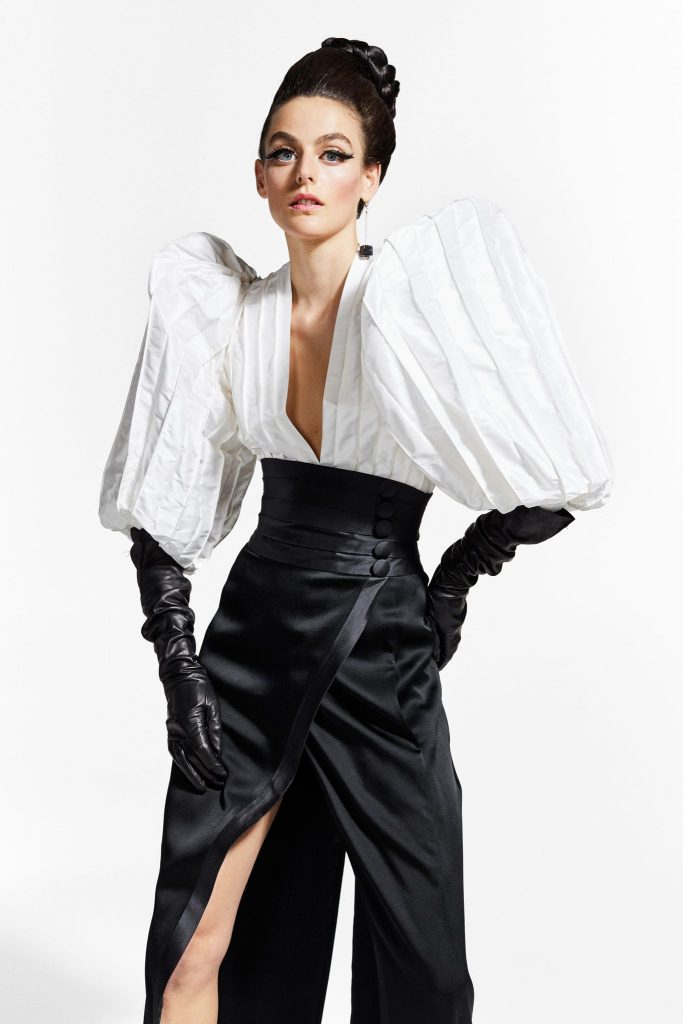 RVDK Ronald Van Der Kemp
If no one told you otherwise, would you have known that Ronald Van Der Kemp's latest collection was completely upcycled? Likely not. This is his third show in a row with clothing that is completely upcycled from materials currently contained in his studio. The result? Lively, vibrant looks that include a healthy mix of black and color.

The showing was very well-rounded in terms of particular pieces, with dresses of varying lengths and electrifying pants, tops, and jackets. Each piece looked to be well-constructed, with varying degrees of texture. RVDK's hair and makeup teams both produced vivid, creative work as well.

The brand has been pulling off great collections that are as well-designed as any non-upcycled collection out there. More designers could look its example for how to successfully utilize excess materials and thus, promote sustainability.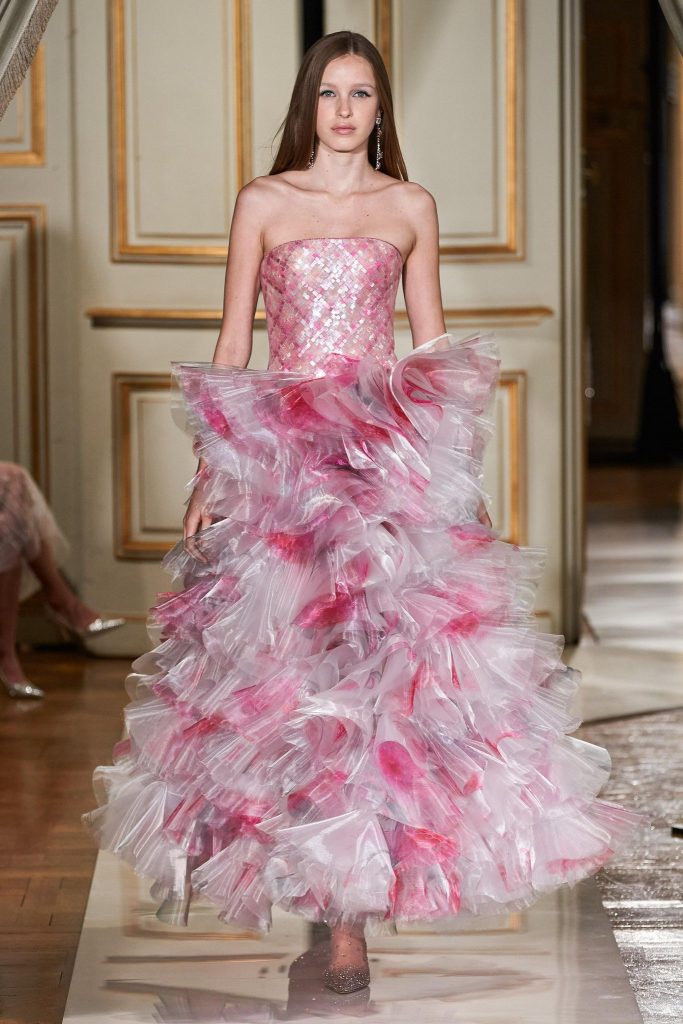 Armani Privé
Armani's couture output was impeccable, yet again. One can tell that Giorgio is very excited to be re-entering normal life and the accompanying celebrations, as many of us are; this show could be considered his grand re-entry to the live fashion scene.

The collection began with tailored black Armani jackets paired with fluid blue pants. Outfits in additional gorgeous shades of blue came next, followed by lighter shades of primarily pink with a smattering of green that dominated the rest of the show's 68 looks. Many of the fabrics included had a lustrous quality about them, led by the silk organza gowns that frequently made an appearance. There were also quite a few frothy gowns to go around along with the sleek, sophisticated silhouettes on display. Not to worry, though – this tailoring master knows how to restrain froth so that it doesn't become too cloying in its presentation.

For embroidery, Armani chiefly cycled between crystals and sequins. This, when added together with the already gleaming fabrics, made for a showing that was ethereal in both appearance and feeling. It reminds those of us observing of the powerful ability of fashion to transport us into an dreamlike state of being.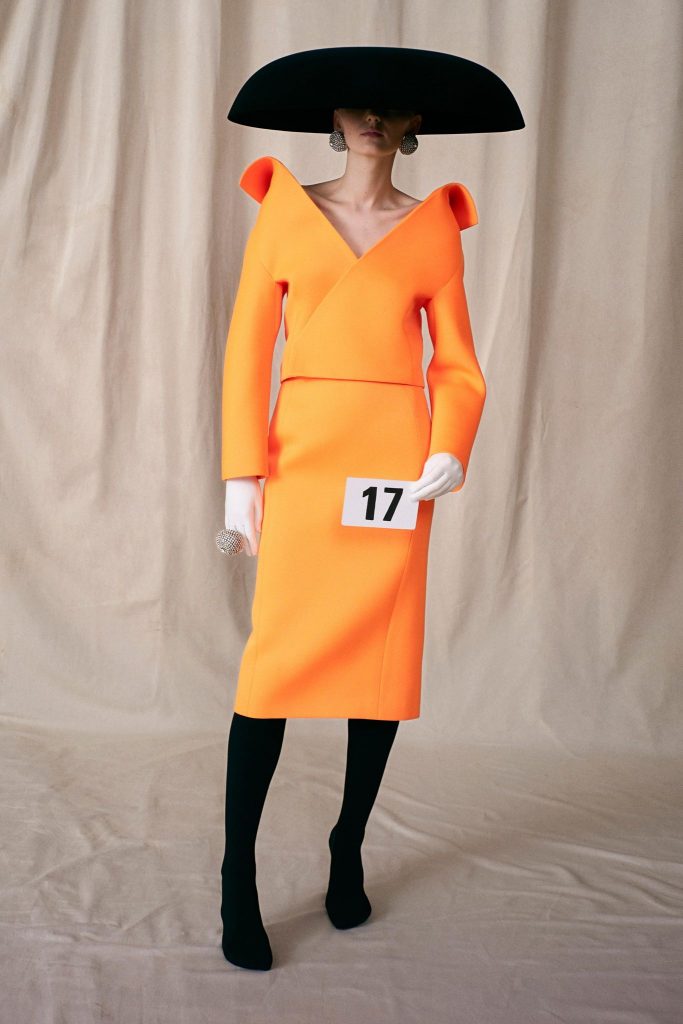 Balenciaga
This was a special show for Balenciaga, as the house has not shown an haute couture collection in 53 years. Current creative director Demna Gvasalia made his present felt. The usual streetwear devotee showed his couture chops in a number of ways that demand respect from those watching.

He opened the show with a parade of black suits that emphasized strong shoulder tailoring and roomy slacks. As the show continued, Demna played with different cuts in the collar region of many of the looks. In the above picture, for example, the Eastern European designer took the collar (which extended upward) of his beautiful tangerine-colored outfit and folded it downwards so that it falls around the shoulder. Later on, he used the same technique with a silver faux fur jacket that was paired with light jeans.

A number of pieces were traditionally beautiful – a concept that Gvasalia usually eschews. This effect was heightened with the use of arm-length black gloves – a show of elegance from a bygone era that one rarely ever sees these days – paired with exquisitely detailed dresses. Another design that displayed a sense of charm was the one-shouldered white dress with black polka dots and a mini-train of fabric that was paired with black pumps.

It wouldn't be a show designed by Demna, however, if there weren't a few oversized garments and a lot of denim. Of course there'd be a hoodie present, as well. Jeans in this particular couture environment was a move out of left field, and may not have been the best pieces in the collection, but they achieved their likely intention of elevating streetwear to the couture stage. What was a great choice, however, were the Philip Treacy oversized hats and the unusual shades. Both accessories added a sense of drama to a show that turned out to be a successful evolution of Cristobal Balenciaga's legacy.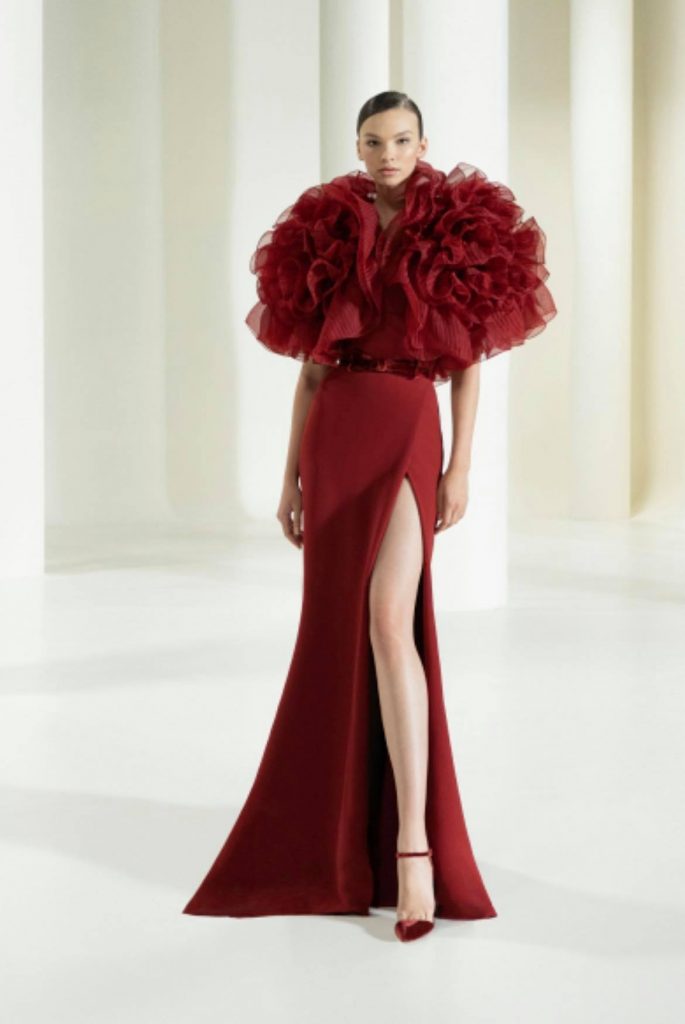 Elie Saab
Elie Saab's haute couture show for Fall/Winter 2021-22 was a masterclass in craftsmanship. Saab decided that he would focus on embroidery and detailing for this collection due to the increased intimacy and decreased size of events in our current time. This makes complete sense; if we are going to be in more intimate settings, then our clothing will probably be under increased scrutiny.

The embroideries that received focus were florals, feathers, crystals, and sequins. These were combined with the designer's classical dress shapes. In typical Elie Saab style, the dresses all possess an air of grandiosity – albeit a bit pared back. A few of the dresses gave off Dior "New Look" vibes, having full skirts paired with a cinched waist. These are pieces that are surely ready to see the inside of a party or an awards show.

The color palette started off with darker tones and moved on to lighter shades as proceedings continued. Both the wine- and red-shaded dresses were stunning, and the pastels were a breezy ending point to the show.

Something else to take note of here were the instances when Saab included sheer fabric to show off a bit of skin in his creations. It was always done in a tasteful manner, which can be a tough line for some to walk. This house is nothing, however, if not classy. The headpieces included in certain looks were also notable, and have a vintage cachet that many will find inviting.

This was another exemplary outing by Elie Saab.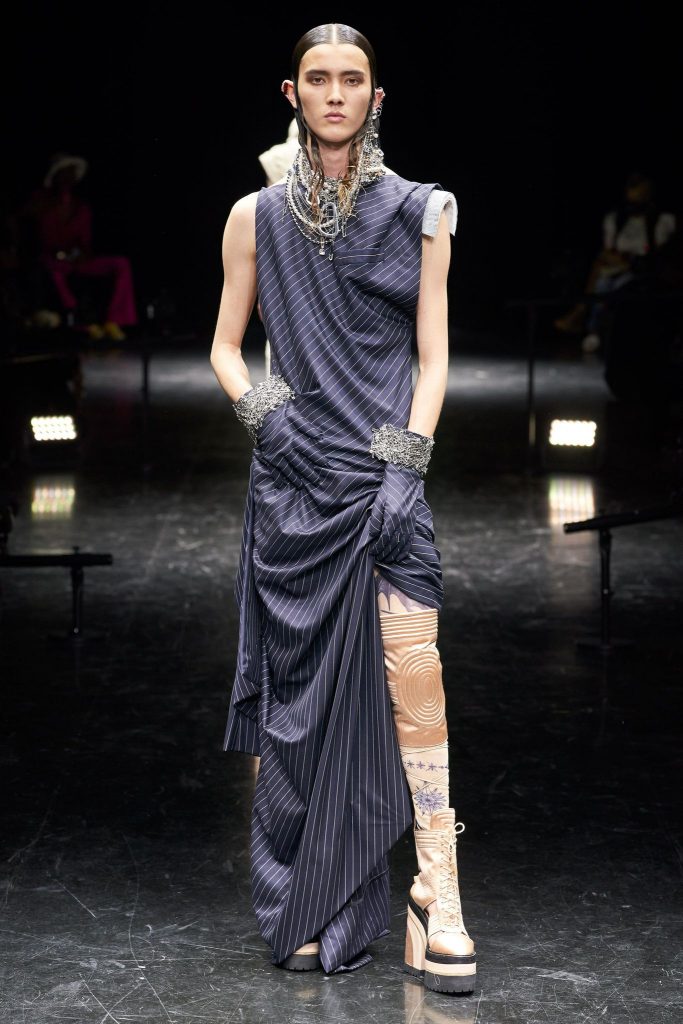 Jean Paul Gaultier x Sacai
Jean Paul Gaultier retired in January 2020, and had decided at the time that his couture house would continue with the help of periodic guest designers. His first designer was Sacai creative director Chitose Abe, whose showing was delayed by the pandemic until this year. Her showing paid proper tribute to Gaultier's past while deftly mixing in her own influences.

Pinstripes made multiple appearances, often being combined in its assembly with other materials (as is a Sacai trademark). The marinière also showed up a few times, each time paired with tartan pieces; Jean Paul Gaultier was very well known for his use of these sailor stripes while he was designing. Additionally, Abe included many seemingly military-inspired garments, with one of those outfits being a double-breasted military jacket along with a white bottom with the same gold buttons as the jacket.

With regard to color choices, the show was dominated by shades of blue. As this is a fall/winter showing, this was a safe choice. And, the second skin tattoo artist bodysuits that clothed the models underneath their primary outfits (designed by artist Dr. Woo) were an interesting touch. Abe did a considerable job channeling the house's founder; one wonders if this collaboration would be reprised at any point in the future.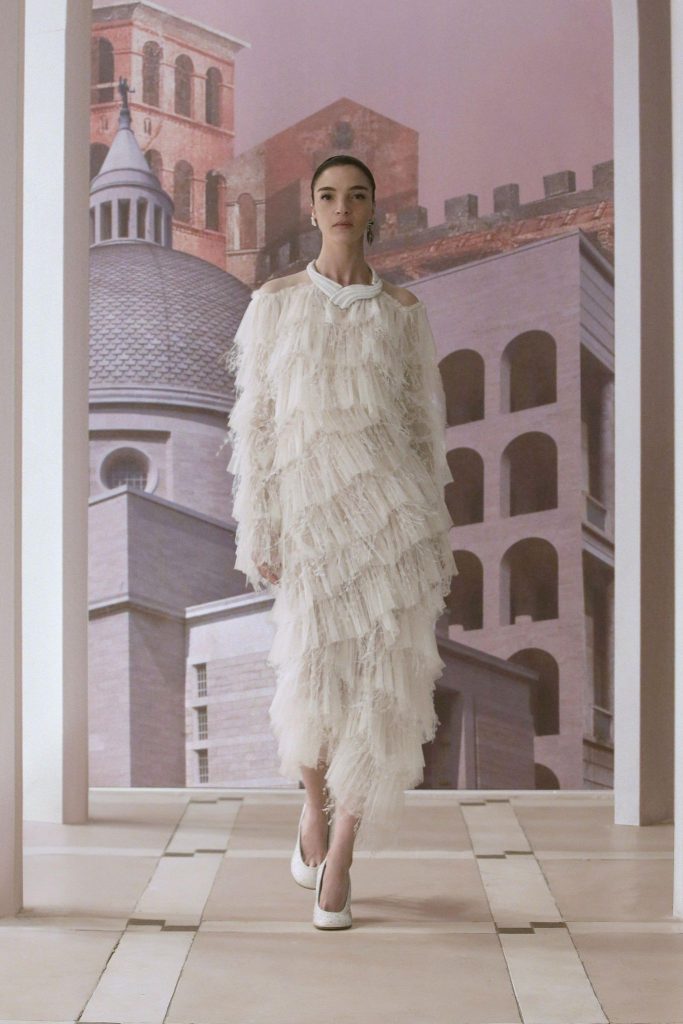 Fendi
Fendi's Fall/Winter 2021-22 haute couture collection was a classic example of well-made Italian design. The supermodel-filled showing was sophisticated, but restrained, and was made of primarily lighter colors with few exceptions. The show began with somewhat slimmer dress silhouettes followed by a couple of outfits that included white slacks and some that went with thigh-high white boots paired with shorter hemlines. Ballroom-style gowns were on the menu towards the end of the show, lending heightened elegance to the collection.

It all added up to give quite an angelic impression to observers. One could picture goddesses or other supernatural beings wearing these garments. After all, designer Kim Jones did state when speaking about his inspiration for these designs that "It's still very much about fantasy." This collection is a continuation of the strong start that he has had for the Rome-based brand over the past couple of seasons. This is the type of skill and refinement that one should be able to expect from fashion houses that produce couture.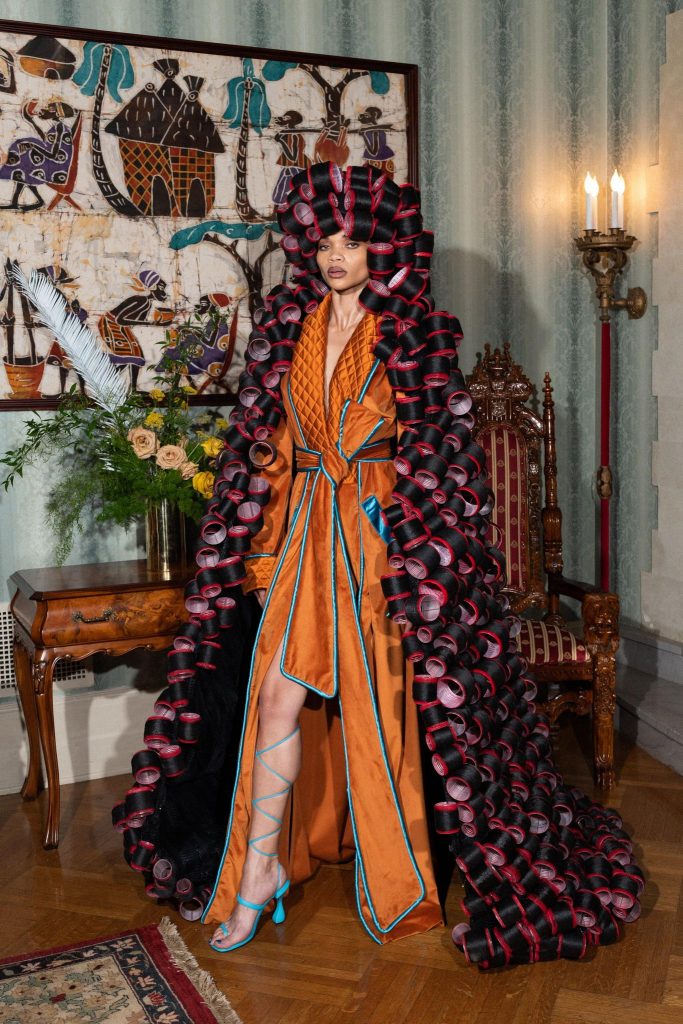 Pyer Moss
Let's get everything out of the way that we've all heard about this showing by Pyer Moss: Kerby Jean-Raymond is the first Black fashion designer to receive a spot to show during Paris Haute Couture Week. He showed at Madam C.J. Walker's estate, Villa Lewaro, in Irvington, NY – about an hour north of New York City. His show was originally supposed to be shown on Thursday, but was postponed until Saturday due to incessant rain. Kudos to him for remaining resolute in his determination to have his creations shown to the fashion world.

Now that we've gotten through the above facts, let us discuss the clothing. It was 'camp' of the highest order. Every single piece. The concept of this show for the New York designer was to honor often-forgotten Black inventions and inventors. There appeared to be no attempt to channel that inspiration into a wearable design; he took each of the inventions that he was honoring very literally. For example, he sent out a yellow jacket with an attached inflatable Super Soaker to honor the popular kids' toy. There was also a model trotted out wearing a large jar of peanut butter to honor George Washington Carver, who developed multiple peanut products (not including peanut butter, however).

It could have been fascinating to see what Jean-Raymond could have dreamt up had he tried to create haute couture that could be worn instead of creating costumes that, while fine for showpieces, have no other environment in which they would be applicable except for (perhaps) a museum. But for a brand of Pyer Moss's caliber, one has to believe that wearability was not the point – activism was. Social awareness has always been an underlying factor for the company. In that respect, this collection is very much on-brand. These clothes were not meant to serve our sartorial senses. It was here to make a statement: Black erasure will not be tolerated. And in that respect, we all heard Kerby Jean-Raymond loud and clear.
To subscribe to Manic Metallic's newsletter, click here. To follow us on Instagram, click here.