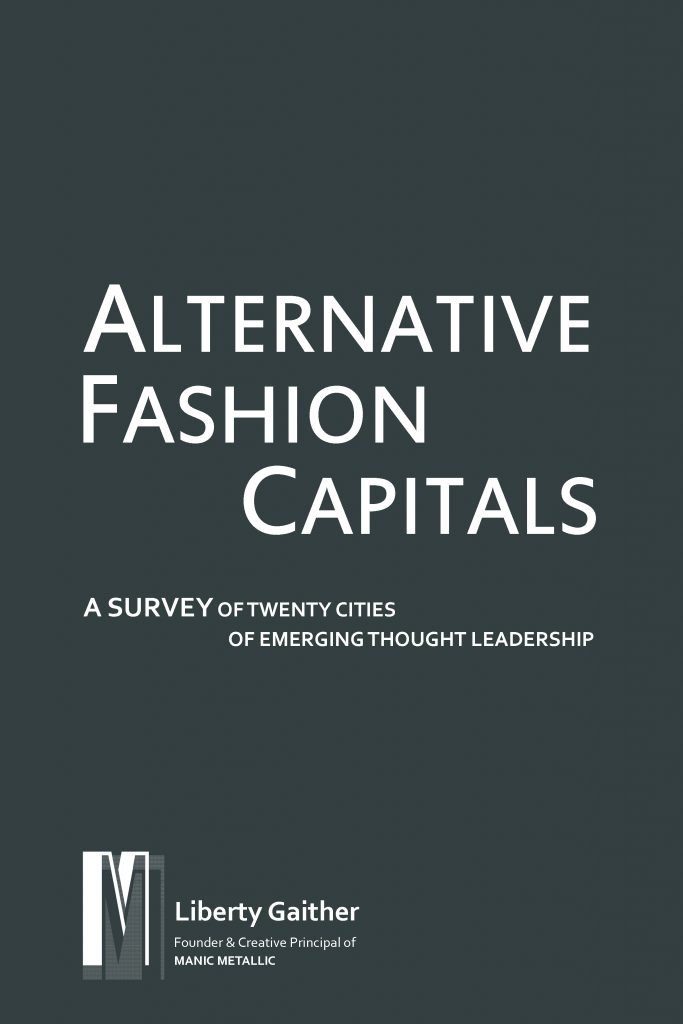 Over the course of the past 1 ½ years, Manic Metallic has been working on a project that we see as very necessary and potentially transformative. A project that addresses the concerns of many that the fashion industry is heavily Eurocentric with no regard to the talents and aspirations of non-White people. A project that takes into account the inherent diversity across the globe, and the sartorial creativity that comes with that diversity. A project that acknowledges the existence of other cities in the fashion world aside from New York, London, Milan, and Paris.
What is Manic Metallic's new project?
We call this project – which comes to you in the form of an ebook – "Alternative Fashion Capitals". For months, we researched endlessly until we came up with twenty major cities spread across six different continents with which we are confident in what we call their 'fashion infrastructure' – an infrastructure that actively supports those either already in or who want to enter the fashion industry. Included in a city's fashion infrastructure is the following:
Shopping Districts
Specific Places To Shop
Brands
Events
Fashion Organizations
Fashion Publications
Universities and Colleges
Each of the twenty alternative fashion capitals received a dedicated chapter broken down into the aforementioned sections while leading off each chapter with a brief commentary on what the fashion capital is known for within the scope of the industry.

For more information on what the above categories entail, click here for a preview of the book.
Who is Manic Metallic's new ebook for?
We believe that Alternative Fashion Capitals: A Survey Of Twenty Cities Of Emerging Thought Leadership will be an amazing resource for the following groups:
Those looking to either attend fashion school or obtain work in a major fashion city, and would like to know what fashion infrastructure and resources are available in cities other than the supposed "Big 4"
Fashion-forward people that love shopping and would like to know the popular spots in which to shop globally, with regard to neighborhoods and stores
Lovers of fashion design that are interested in knowing about some of the best design talent outside of the supposed "Big 4"
Anyone who values the consistent cultural exchange of ideas, and is looking to expand their knowledge of fashion beyond the traditionally accepted fashion capitals
Anyone that respects fashion as an artistic form and/or as a discipline
Why did Manic Metallic create Alternative Fashion Capitals: A Survey Of Twenty Cities Of Emerging Thought Leadership?
There are a number of reasons why we created this ebook, but the primary reason is that we believe it provides information that the fashion industry needs to have.

It shines a spotlight on the sartorial cultures of cities that quite frequently get attention diverted away from them in favor of even more coverage of the already well-known four fashion capitals. Alternative Fashion Capitals dives deep into the fashion infrastructure of these twenty cities and illuminates the various components of those infrastructures.

In Alternative Fashion Capitals: A Survey Of Twenty Cities Of Emerging Thought Leadership, we cover and discuss:
Shopping Districts: 89
Specific Places To Shop: 158
Brands: 177
Events: 33
Fashion Organizations: 39
Fashion Publications: 110
Universities/Colleges: 51
Manic Metallic gives a short written study on each of these infrastructural components while individually linking to as many of the events' and fashion organizations' websites as possible.

It is so important to tell the stories of these alternative fashion capitals, their designers, and their overall fashion narrative. We worked as extensively as we could to do the fashion industries of these twenty cities justice via our writing and research, and are certain that either you or someone that you know will be able to purchase and make use of our new ebook as a valuable resource to help you to meet your fashion goals!
Where can Alternative Fashion Capitals: A Survey Of Twenty Cities Of Emerging Thought Leadership be purchased?
Currently, the Alternative Fashion Capitals: A Survey Of Twenty Cities Of Emerging Thought Leadership ebook can be purchased from the following locations:
Google Play Books: https://play.google.com/store/books/details/Liberty_Gaither_Alternative_Fashion_Capitals?id=hmdMEAAAQBAJ
Apple Books:
https://books.apple.com/us/book/alternative-fashion-capitals/id1594701742?ls=1
KOBO Books:
https://www.kobo.com/us/en/ebook/alternative-fashion-capitals
Manic Metallic's website:
https://manicmetallic.com/product/alternative-fashion-capitals-ebook/
Amazon Kindle:
https://www.amazon.com/Alternative-Fashion-Capitals-Emerging-Leadership-ebook/dp/B09MV62QG6/ref=sr_1_2?keywords=alternative+fashion+ebook&qid=1638471557&sr=8-2
KOBO, Google Play, and Apple Books are all in an .epub format – and all have apps in which the Alternative Fashion Capitals ebook can be read. The version on the Manic Metallic website was created in PDF format in order to give readers that prefer PDFs a simpler way to access our ebook. The Etsy version is also in PDF format.

Alternative Fashion Capitals: A Survey Of Twenty Cities Of Emerging Thought Leadership is coming soon to Barnes & Noble. If that is your preferred venue for reading ebooks, we will keep you updated on that imminent release.
Click below to purchase from your preferred ebook vendor:
We are truly excited about this project, and we very much hope that you are as well!
To subscribe to Manic Metallic's newsletter, click here. To follow us on Instagram, click here.