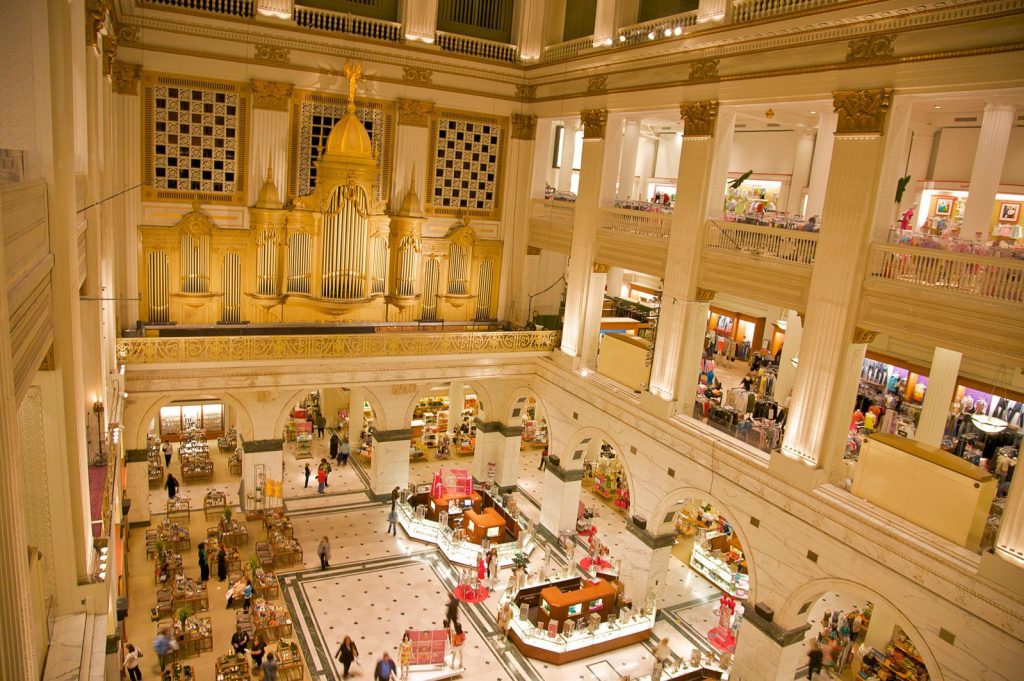 The second installment of our "What Was….?" series is the former Philadelphia retail giant Wanamaker's.
Wanamaker's was opened in April 1876 by Philadelphia businessman John Wanamaker as an American response to European markets like France's Les Halles and England's Royal Exchange. The building chosen was a former Pennsylvania Railroad depot located at the intersection of 13th Street and Market Street in the heart of the city. The merchandise, which Wanamaker planned to market to upscale clients, consisted of a combination of clothing and other specialty items like furniture and toys. By 1879, the store had 49 different departments.
John Wanamaker had a few practices at Wanamaker's which proved to be innovative for the time. For example, he is widely viewed as the first to use price tags. In 1876, the store opened an in-store restaurant, becoming one of the first to do so. He also promoted a money-back guarantee to customers, which was unheard of at the time. Additionally, Wanamaker's printed the first copyrighted store advertisement, was the first store to install electric lighting, and became the first store to install elevators.
With regard to clothing, Wanamaker's wanted to promote high turnover and low prices. To do so, he created three store sales:
"White Sales" happened in January
"Opportunity Sales" happened in February
"Midsummer Sales" happened in July
In addition to the store having its own house brands, John Wanamaker sent ten buyers to Europe every year to return with clothing that conveyed style and quality.
In 1911, the current Wanamaker building – that now houses Macy's Center City – was opened at 13th and Market. It was dedicated by President William Howard Taft, the only department store to be dedicated by a sitting president. Built by Chicago architect Daniel H. Burnham, it contained 12 floors and took up an entire block. At the time, it was the largest retail store in the world.
Wanamaker's also had a New York location at 770 Broadway and, at its height, had about 16 locations in the mid-Atlantic region of the US. 
Business began to decline, however, when it began losing sales to other department stores like Bloomingdales and Macy's. The store remained in the family until his heirs sold it in 1978. The Wanamaker building was designated as a National Historic Landmark that same year.
After this, Wanamaker's went through a series of ownership changes until finally becoming a Macy's in 2006.
The accompanying podcast will be out soon, in which we'll have a deeper discussion about Wanamaker's and its place in fashion and retail history.
---
To learn more about Wanamaker's and its place in fashion and retail history, listen to its corresponding episode of The Manic Metallic Podcast – available on Spotify, Amazon Music, Apple Podcasts, RadioPublic, Google Podcasts, Stitcher, and iHeartRadio.
To subscribe to Manic Metallic's newsletter, click here. To follow us on Instagram, click here.